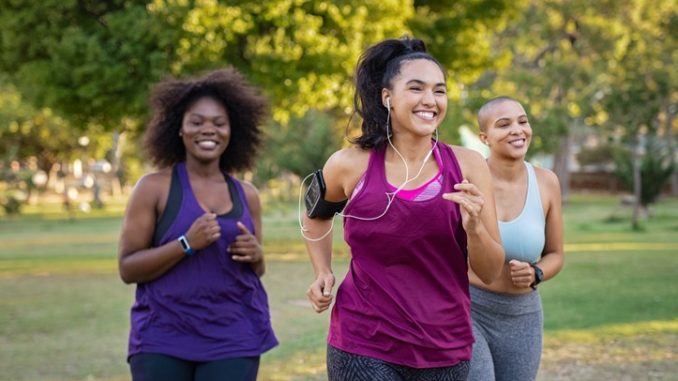 Parkrun has jogged its way into the hearts and health of people all over the world – is it time for your practice to get its running shoes on, too? Practice business explores the benefits of linking your surgery to your local parkrun events
The parkrun has revolutionised our approach to community-based fitness. Once a week, people get together in a local park to walk, jog or run 2 or 5k. Thanks to partners, sponsors, generous landowners and thousands of volunteers it's free, and open to everyone.
It's likely that you know several dedicated 'parkrunners' who sing its praises despite having to get up before 9am on a Saturday or Sunday morning, rain or shine. They tout its physical health and mood-boosting benefits – and for good reason. It combines exercise with community, operates in over 20 countries and unites people of all shapes and sizes across the globe.
Its message is about inclusivity and wellbeing, its format simple; 'Register once, print your barcode, then turn up and take part wherever you want, whenever you want'.
As of January 2020, one-in-six GP surgeries are linked to their local parkrun events; this translates to over 1,350 practices signing up over the last 16 months. Practices have been encouraged to become 'parkrun practices' since 2018, when the Royal College of General Practitioners (RCGP) and the parkrun organisers launched a collaboration initiative; prescribing parkrun in primary care as a way to boost physical  and mental health, and to tackle the UK's loneliness epidemic.
The initiative encourages practice staff to promote participation to patients, and also to participate themselves either as runners, volunteers, or spectators. Practices that register through the parkrun website receive marketing materials to help promote the events.
The practice parkrun initiative has been a huge hit with healthcare professionals. "We have been blown away by the response from GPs and their teams to this initiative," Dr Andrew Boyd, a partner at Clapham Park Group Practice, says. "Its success demonstrates there is a growing appetite among GPs to forge meaningful links with local assets and services to help better the health of their patients. I believe the parkrun practice initiative will be a blueprint for future partnerships between healthcare providers and other local community assets."
If you are unsure about joining the one-in-six surgeries already linked to their local parkrun events, here is a summary of the benefits to your team, your patients and your practice.
P – parkrun demonstrates practice participation and boosts patient satisfaction. Linking to your local parkrun, and prescribing it to patients, demonstrates that you are active in the local community and that you care about it. This is fantastic for the reputation and success of your practice.
A – Walking, jogging and running arm patients against future ailments, such as heart disease, high blood pressure, diabetes and even cancer. A healthier, happier local population means less demand on primary care services.
R – Running also has numerous immediate health benefits. It can help burn fat and reduce the rate of obesity in your local population. It releases endorphins and is a fantastic tool to combat mental health problems.
K – Many patients and practice staff will be keen to join this initiative. It might give them a new incentive to look after their health or to participate more in their community.
R – The practice-parkrun initiative has had an overwhelmingly positive response – from patients to healthcare professionals, people are singing the parkrun praise. Testimonials suggest that the parkrun really does make a difference to people's lives and will have positive knock-on effect to the success of your practice.
U – It unites wider services and primary care, serving as a model for integrated working. Linking to your local parkrun can be thought of as a form of social prescribing – a method of working promoted by the NHS Long Term Plan.
N – No-one is excluded. You can walk, jog or run the 5k, or even use a wheelchair. It unites patients and healthcare professionals. It brings people together from all over the world. It builds community and morale – ensuring patients are more likely to keep going and achieve their healthcare goals.
The practice parkrun initiative is growing and growing. If you are looking to inject some energy into your surgery this Spring, linking with parkrun can help you run towards your practice goals.
You wont regret it.
Don't forget to follow us on Twitter, or connect with us on LinkedIn!