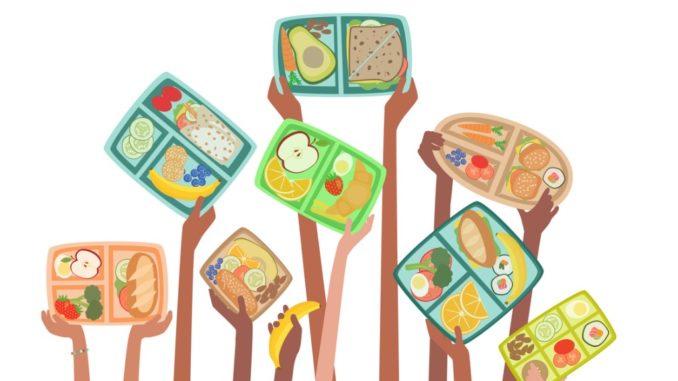 Ready meals may well have a bad reputation, but is it actually deserved? We say they don't have to be unhealthy, and have some tips to make them a little more nutritious…
CREDIT: This is an edited version of an article that originally appeared on Happiful
The humble ready meal offers a lunch or dinner solution in a matter of minutes. Whether you're craving a bowl of pasta, a hearty stew, or something more exotic, a comforting meal can swiftly emerge from the microwave. Yet we're often made to feel guilty about not making more effort and cooking from scratch.
It's worth noting that, for some of us, the simple act of ensuring we're hydrated and fed three meals a day, is an achievement worth recognising in itself. Whether it's due to health struggles, fatigue, or just life overwhelming us, no-one should feel guilty for not spending hours cooking up a storm in the kitchen. If a ready meal is what you need to get through your day then, absolutely, reach for one!
Nutritional therapist Sonal Shah, of Synergy Nutrition, says that just because it's a ready meal doesn't automatically mean it's unhealthy. "There are ready meals available which are lower in salt, free from trans-fats, and balanced with carbs, proteins, and healthy fats."
However, they do vary wildly in nutrition levels, so it's worth checking the label to see the amount of salt, trans-fats, and fibre they contain. "It's helpful to remember that the ingredients on the back of packaging are listed in order of quantity. So, if fat, salt, and sugar are listed high up, this means that the product is made up mostly of these ingredients," explains Sonal.
Upgrade your ready meal
No time to cook, but want to make your ready meal a little healthier? Follow our simple suggestions to quickly upgrade your ready meal into a more nutritious dish…
• Protein is really important for energy, but can be lacking in ready meals. Keep sources of protein in your fridge to chuck into your bowl at the last minute. Cooked chicken is a great idea, while tofu, which only takes a minute or two to cook, is a nutritious veggie option.
• One thing to look for is the amount of fibre the meal contains. We need around 30g a day, so if you can't find a high fibre ready meal, stir some fresh veg into a microwaved meal instead. "Add a side of fresh vegetables or salad to make the meal healthier," Sonal suggests. "Steam, lightly boil, or roast vegetables such as broccoli, cauliflower, kale and asparagus, to boost the nutritional value while you wait for your meal to cook." And remember, frozen veg is just as nutritious as fresh veg, and can be defrosted in minutes.
• Instant brekkie options (such as on-the-go drinks and quick-cook oats) have their place, and are better than skipping it altogether but with a few add-ons you can turn an instant breakfast into a nutritious powerhouse that will keep you going until lunch. For example, sprinkling a teaspoon of chia seeds into oats provides a great source of omega 3, while a spread of peanut butter on your toast adds fibre and healthy fats.
Make your own ready meals
Of course, a cheaper alternative is to make your own speedy 'ready' meals. If you've got a busy weekday schedule, consider dedicating a few hours each Sunday to meal prep for the week ahead. "Many dishes – such as stews, soups, lasagne, chillies, and curries – can be cooked in batches and then frozen or refrigerated," Sonal says.
If you hate messing around with spices and sauces, why not pre-marinade your meats before freezing? You can then simply throw them in the oven with some vegetables for a quick supper.
If you haven't got time to batch cook, Sonal also advises that meals such as stir fries, pasta, and veggie stuffed pittas, all take just a few minutes to make. Investing in a slow cooker – which requires just a few minutes of morning prep for a hearty evening meal – is another great option.