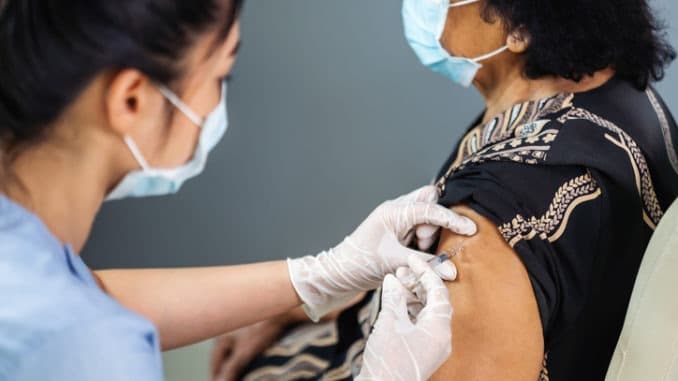 Vaccine minister Nadhim Zahawi has said that those who were hesitant to receive the vaccine "skew heavily" towards black, Asian and minority ethnic communities
Last month, a poll commissioned by the Royal Society of Public Health suggested 57% of black, Asian and minority ethnic people would be happy to have the coronavirus vaccine, compared with 79% of white people.
Dr Harpreet Sood, who is leading an NHS anti-disinformation drive, recently said fake news was likely to be causing some people from the UK's South Asian communities to reject the vaccine. Such warnings have led the Mosques and Imams National Advisory Board to urge places of worship and community hubs to be used as vaccination centres in an attempt to inspire confidence.
The board's chairman, Imam Qari Asim, said: "As an imam, my message is simple – do not trust 'fake news', verify before you amplify."
Professor Martin Marshall, chair of the Royal College of GPs, said: "GPs and our teams are working hard to vaccinate our patients from COVID-19, beginning with our most vulnerable patients, in accordance with the JCVI's prioritisation list. Whilst those from black, Asian and minority ethnic communities are not specifically on the JCVI list, ethnicity is one of the criteria for prioritisation within each group according to guidance from NHS England. As such, GPs are able to use their clinical judgement within the priority list to ensure the programme meets the needs of local communities.
"We are concerned that recent reports show that people within black, Asian and minority ethnic communities are not only more likely to be adversely affected by the virus but also less likely to accept the COVID vaccine, when offered it.

"As such, where appropriate, we're calling for public health communications to be tailored to patients in Black, Asian and minority ethnic communities, to reassure them about the efficacy and safety of the vaccine and ultimately encourage them to come forward for their vaccination when they are invited for it."