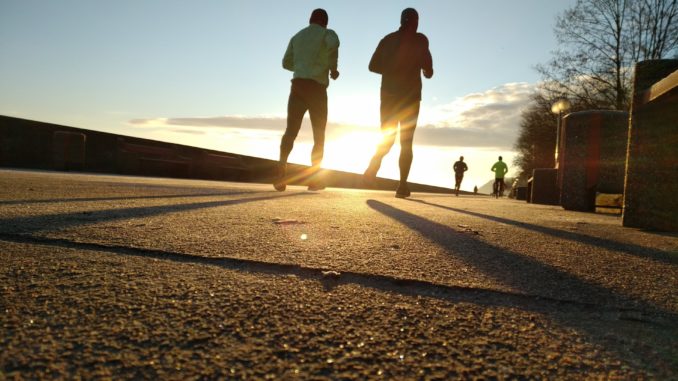 Is one of your new year's resolutions to shed some weight and start running? To help you take the first step we've created a useful guide packed full of NHS-approved advice to ensure you enjoy a safe and speedy return to the road
The RCGP has urged practices to prescribe the NHS's 'Couch to 5k' programme to aspiring runners in a bid to improve health and wellbeing, reports Pulse. The scheme sees local practices partner Parkrun providers with those taking part, becoming 'certified' running practices.
What's good for patients is good for practices, and staff at participating surgeries are being encouraged to take part too.
Running is a cheap and simple form of exercise that's highly popular – but if you don't plan properly you could be at risk of developing bad habits that could result in an injury.
If you're looking to start running, or are returning after an absence or injury, Practice Business provides some NHS-approved advice to help you get you active.
Before you start
Don't just chuck on a pair of old trainers and start running; instead, spend a few moments thinking about your equipment and your approach.
Running requires little equipment, but a good pair of running shoes that suit your foot-type may help improve comfort. There are many types of trainers on the market, so get advice from a specialist running retailer who will assess your foot and find the right shoe for you.
The shoe's structure weakens over time, especially with regular use. Running experts advise replacing running shoes every 300 miles (482km).
Women should also consider using a sports bra, which is sturdier than a regular bra and provides additional support.
If you're starting this January, then wear the right clothes. You can get tips on what to wear when running in the cold.
Plan your runs. Work out when and where (the exact route and time) you're going to run and put it in your diary – that way, it won't slip your mind.
If you feel out of shape, or you're recovering from injury or worried about an existing condition, see your GP before you start running.
Starting out
The key to success lies in starting slowly and exercising regularly. Here's how:
Start each run with a gentle warm-up of at least five minutes. This can include quick walking, marching on the spot, knee lifts, side stepping and climbing stairs.
Start walking for an amount of time that feels comfortable.
When you first start out, try alternating between running and walking during your session.
As time goes on, make the running intervals longer until you no longer feel the need to walk.
For information on good running technique, read How to run correctly.
Give yourself a few minutes to cool down after each run by walking and a doing few stretches. Try this post-run stretch routine.
Regular running for beginners means getting out at least twice a week. Your running will improve as your body adapts to the consistent training stimulus.
It's better to run twice a week, every week, than to run six times one week and then do no running for the next three weeks.
Couch to 5K
If you're a complete novice, or want a structured plan to follow, the NHS Couch to 5K programme is designed to get just about anyone off the couch and running 5km in nine weeks.
The structured programme has been designed to support you as you slowly build up your stamina and fitness. As well as a website, you can download podcasts to help keep you motivated and moving – it's the ideal way to start enjoying exercise.
Staying motivated
Over time, our motivation can slip. Here are some tactics for staying on target: 
Don't forget to follow us on Twitter, or connect with us on LinkedIn!