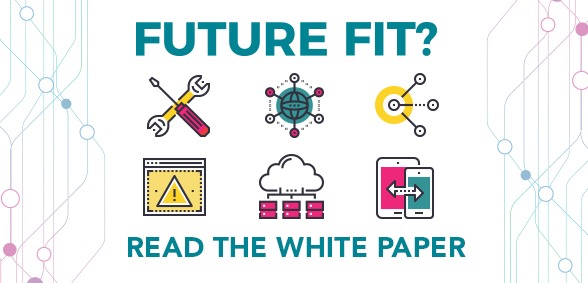 The NHS is getting serious about technology. There are a number of tech Initiatives already underway – and more about to hit. What do GP practices really need, and how ready are they to embrace tech, and all the benefits it can bring? What's getting in their way? We decided to find out.
In conjunction with our partner, business technology solutions' provider Brother UK, Practice Business consulted practice managers, and other healthcare providers, to identify what the real barriers to change in general practice are because, if the sector can understand these, it can find solutions to overcome them. In this, the fifth in a series of six reports, we explore the tech-led solutions which are beginning to revolutionise GP practices
Increasing demand on healthcare services was identified as a key challenge in our research, and the main contributing factor to growing workloads within general practice. In his speech at the Conservative party conference in Birmingham, back in September 2018, health secretary Matt Hancock said that more funding must be allocated to primary care to reduce pressure on A&E services.
An already stretched primary care sector will certainly require tangible support if it is to be able to take some of the strain from the hospital sector. The government's Digital Transformation Programme (DTP) is intended to provide this support; it aims to remove a massive workload burden from GPs and, in turn, front-of-house practice staff. Although the roll out on this has been slow, it is already providing patients with access to online services – for example, e-consulting, patient portals and online access to patient records and appointment bookings.
Behind the scenes
Technology offers general practice the opportunity to realise greater efficiencies – for practice teams and also for patients – and things are changing, digitally, behind the scenes. Since January 1, 2018, there has been a requirement that practices are wifi-enabled throughout and, in addition to administrative areas, nearly every consulting room will now have a printer. This additional capacity means that MPS are already delivering tangible benefits for GP practices across the country.
Answering demand, and seeking to deliver a more robust care service, in addition to the administrative areas of a practice, nearly every consulting room will now have a printer. While, traditionally, practice managers will have used a transactional model to manage their fleet of printers, they can now benefit from using managed print solutions that better streamline this process for their practices. This will inevitably free up time for staff to focus on meeting the demands of patients, moving away from the administrative burden of ordering and managing supplies. It will also ensure that the day-to-day operation of GP practices isn't impacted by printer downtime, keeping productivity at its highest.
Other solutions include fully-automated, wifi-enabled, options which provide access to the cloud. Brother Print Services for Health can eradicate the need for user intervention, making everything automated. Solutions like this help practice staff to work smarter, rather than harder – allowing them to better manage increasing demand more effectively and focus their efforts on the more important areas of their work.
The scanning of paper documents – which can then be more easily managed and shared – is another area of significant note that has emerged to reduce the admin burden in practices. These online document workflow and capture solutions are becoming increasingly important in streamlining GP practice admin processes; Docman 10 was identified by respondents as one such solution they were already engaging with.
Digitising documents, and managing them online, is a much more efficient way of working. Modern scanners allow users to create searchable PDFs in seconds which can be archived and retrieved much more quickly than paper documents. Security is an additional benefit that comes with this move to new technology; digitising documents is a more secure way of storing them and removes potential issues such as damage as a result of water or fire.
Such solutions are enabling practices to share information with colleagues and patients in familiar ways – addressing increasing demand in terms of changing expectations among both patients and staff.
Building a sustainable NHS
While there is no doubt that technology is key to a sustainable NHS, respondents identified technology that is not fit-for-purpose as a key contributor to increasing workloads; the majority reported that the technology they have in place is only 'somewhat effective'. Why is this? The King's Fund's Digital change in health and social care (2018) argues that this is a facet of implementation and whether the right checks are in place to ensure the IT across the NHS actually works. This is very important at the individual practice level, and established providers understand this.
More than this, ensuring a sustainable future for the NHS is about future proofing; only in this way can technology purchases be truly cost-effective. When purchasing new technology, even if the practice isn't going to use all its potential straight away, industry recommendations point to the purchase of wifi-enabled devices.
In relation to printer procurement, this enables printing via the cloud; for example, wifi allows tablet devices to connect and print directly. This brings a new level of flexibility which is changing the way that healthcare providers work while also improving the patient experience.
Reaching greater heights of efficiency
So, the sector is becoming 'paper-lite', but this is not the same as 'paper-free'. Until the fabled paperless office arrives, practices will need to employ the most effective and efficient strategies possible in order to streamline paper handing and processing; the right tech solutions can certainly help with this. Understanding what and how a practice is printing, having printing hardware positioned in the optimum location(s), maintaining control and visibility of print and print costs – for example, through the auto-replenishment of inks and toners – can all deliver savings in terms of both money and time. A managed print service will deliver all this, and more.
You can read the full report HERE
Or contact the Practice Business team or our partner Brother to share your views.
Up next: Part 6 – FINAL THOUGHTS