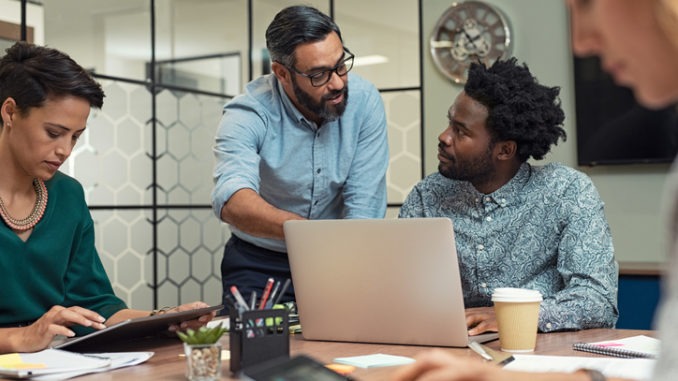 An organisation's progress is largely dependent on how creative, responsible, and accountable its workforce is – and these virtues strengthen when people are given a chance to lead from the front
CREDIT: This is an edited version of an article that originally appeared on About Leaders
Those who manage to exhibit their leadership qualities in demanding situations become an asset for their organisations and an inspiration for their peers.
If you want somebody to learn how to swim, one tried and tested method is to encourage them to take a deep plunge into the water; they might lose their bearings or stay afloat and swim. In the case of the former, there is always a next chance; in the latter case, you have a new member in your swimming club.
Some employees might have a natural disinclination towards leadership roles
Not all people in your company might be inclined to take leadership roles – in fact, many employees, especially those having creative profiles, or those contributing to the back office, might be happy as subordinates. There are also many people who are introverts by disposition, who would prefer to stay on the sidelines while still being substantial contributors to the organisation. No doubt these individuals might be well aware of how much more their skills would be enhanced by taking the reins, yet they still find it extremely difficult not to stay out of the limelight. You need to remember that not every employee will become a leader, no matter how much effort you put in, so pick your potential leaders carefully.
A study by Deloitte suggested that 86% of business and HR leaders believe there is an 'inadequate leadership pipeline' in their place of work, so what companies can do to encourage employees to take leadership roles, irrespective of their nature, job profile, or any other characteristic?
Identify them and fit them into leadership roles meant for them
No matter how identical two individuals in an organisation may appear to be, their skill sets, preferences, disposition and ambition will be different. You need to identify who is who, and give them responsibilities that play to, and boost, their strengths.
For instance, somebody with an impeccable command over the language could be given the responsibility of leading an editorial or content team, while someone good at managing people would fit into the higher tiers of a human resources department.
Empower them to become an influencer
A turning point in my life was when I had joined an e-learning company where our director had told me several times,'"When you write, simply assume that you are sitting on my chair and addressing our audience in my voice.'
This was an empowering responsibility, which brought out the best in me. I started to write leadership articles and today I am leveraging social media, along with all I learned, towards the success of my organisation.
Empowering your employees can be an important strategy because you never know when an employee of yours will becomes an influencer who can be used to bring successful influencer marketing to your company.
Count upon them to motivate them
If counted upon, most individuals will strive hard, and give their best, because they will realise how much you trust them so, if you can establish a sense of autonomy and authority in your employees, this will make them consider the business more serously and they will perform with more dedication and hard work.
Employees will go all-out to enhance their skills because you have put them on a pedestal – and everybody wants to climb higher from there. So count on your employees, and trust them and they will be encouraged, and have more confident, to take on leadership roles.
Train them to help them feel empowered
Workforce training is an important strategy, especially in companies in the technology sector. Rapid innovation, and disruption in industries brought about by tech advances mean that training your employees is the easiest way to achieve a skilled workforce – a much cheaper strategy than hiring expertise from outside.
Research has shown that 58% of managers do not feel empowered and fear that they are seen as being inadequate; even those already in leadership roles may find it difficult to give 100%. Employees are certain to feel empowered, as well as important, when time and resources are invested in their growth. They start to see themselves as an integral part of the organisation – and this is where you can encourage them to lead from the front.
Have performance reviews and reward staff based on their accomplishments in training programmes. Not only will their confidence be boosted as a result of the knowledge of a new technology, they will start to perceive themselves a groundbreaker in the organisation.
Communicate with transparency
In any organisation the strategies, requirements and plan of action keep changing – this is inevitable. Make sure your workforce is aware of what's happening and enable them, wherever possible, to participate in discussions about the pros and cons of the choices under consideration. Only an informed employee will be able to make right decisions to move the business forward while also reaching their goals and achieving their targets.
According to Salesforce, 86% of employees blame lack of communication and collaboration for workplace failure; in a failed workplace, encouraging leadership among employees is a distant dream! Encouraging your employees to become leaders, and transforming them into leaders, will be a benefit to your organisation.