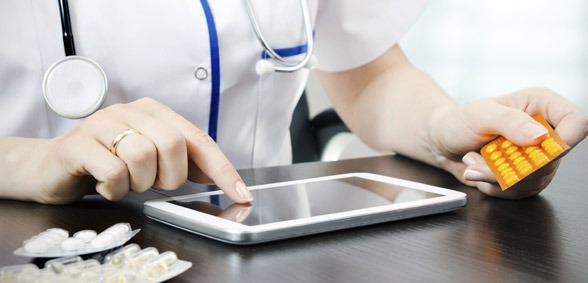 Can digital care answer some of the challenges facing general practice? Marie Cahalane asks Matthew Swindells what role technology plays in improving patient outcomes and increasing efficiency in care in general practice
The digital revolution has firmly impressed itself upon us and is inextricably linked to the future of healthcare. The application of connected technology and big data in general practice is long overdue and it signifies a move towards granting greater control over personal health. Going digital has a plethora of potential benefits to patients and clinicians alike. Enabling a more joined-up care system, by connecting caregivers and sharing clinical information, digital care can streamline processes, improve clinical decision-making and reduce errors with the aim of improving patient outcomes and increasing efficiency in care.
The panacea of healthcare
Last year NHS England announced that more than 55 million patients in England will be able to access test results digitally and track diagnoses, glucose levels and cholesterol digitally. This is the result of a phenomenal leap in the number of GP practices offering online access to records – from three per cent to 95% since January last year. One of a number of digital initiatives designed to bring GP services online, it reflects a wider drive towards digital healthcare, as endorsed by the General Practice Forward View.
"Whilst the adoption of technology in general practice is currently good our ambition is to do more," Matthew Swindells, NHS England national director for Commissioning Operations and Information, says. Technology in care is intended to move health management back into the hands of patients so they become more responsible for their own health, thus reducing workloads within practices. But, more than this, Matthew believes that digital access encourages health professionals to work more closely together. "It enables practices which want to work together to operate at scale through interoperability and shared systems." With an expected NHS funding gap of £30m forecast for 2020- 2021 there's certainly a need for cost-effective healthcare; lowering patients' reliance on the system, taking care out into the community, is an effective means of achieving this.
Technology in the driver's seat
At The King's Fund's Digital Health and Care Congress Matthew reminded delegates that, "Health belongs to the individual rather than to the institution." Digital care enables practitioners to return care to the patient, to put their care in the palm of their hand, to be specific. To achieve this requires innovative care models that are supported by technology, because technology is key to unlocking efficiency in healthcare.
Achieving this is not a one-point-plan; it must work on multiple tiers – tech for the provider, for the individual, for the NHS and the system as a whole. Matthew sets out the importance of a system where there's one record and one care plan which can deliver care that is patient-centric. With records accessible to all – from patient, to GP, to specialist – an integrated, multi-disciplinary model is enabled.
What steps need to be taken to realise this? "Local areas are all at different start points so there is not really one single blueprint," Matthew says, "but for me the fundamentals are organisations working across networks, agreements around data sharing, a drive to empower patients, embracing technology and a relentless focus on interoperability." These drivers work effectively alongside the important focus of the better care programme, the
paperless 2020 programme and the wider drive for the NHS to work across networks.
Managing in the long-term
Effectively managing long-term illnesses is essential to patient outcomes. "Apps provide us with the opportunity to have highly specialised digital services designed around an individual's needs," Matthew points out. Remote management via technology enhances between-clinic monitoring and can provide patients and medical staff with tangible evidence and more accurate updates to guide consultations. "There are already progressive GPs and NHS services using apps as a way of communicating with patients, helping patients self-manage, supporting medication adherence and connecting with remote monitoring and wearable devices," Matthew emphasises, noting that these will work well for the 'expert patient' and are intended to enable those with long-term conditions to better manage their health and reduce the need for face-to-face consultancy. But he's also quick to note that, "We need to do more in this area and we are thinking about how we create a market that not only encourages innovation but also enables a sustainable commercial model where apps can become part of the standard delivery of healthcare."
Adopting technology in a smart way will drive efficiency – in terms of time, cost and workloads – by opening channels of communication between departments, practitioners and patients. Ultimately the patient is supported and, thus empowered, they take charge of their own health.