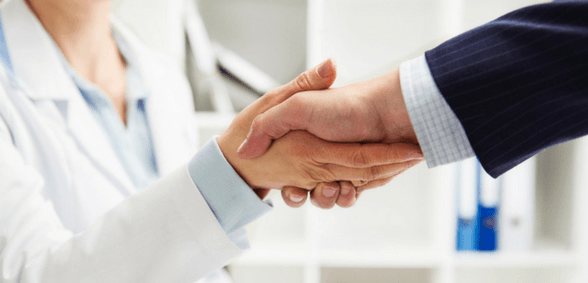 In the current climate, it's becoming more difficult to attract potential partners for your GP practice. However – if you can make them an offer they can't refuse, if they are the right fit for your practice and if they are willing to make the commitment – it can be a rewarding experience for all parties involved. We take a look at the practicalities of partnerships
Things have changed in general practice over the past five years; where once becoming a partner in a practice was preferred, now many GP are opting instead to take salaried positions. Figures have shown a sharp decrease in the number of GPs who are partners – in 2009 69% of GPs were partners and 20.5% salaried; by 2015 these figures had changed to 55% and 24%, respectively.
Back in April 2017, responding to the House of Lord's Select Committee report on the long-term sustainability of the NHS, Professor Helen Stokes-Lampard, chair of the Royal College of GPs, underlined the importance of the GP partner model.
"The independent contractor model of general practice service delivery brings important benefits and must be nurtured and maintained as an option going forward," she said. "It has been a trailblazer for innovation in general practice and created the excellent service that patients rely on and value, as well as providing great value for money to the NHS. This continues today, with many GP partnerships taking the lead in developing new models of care."
A welcoming thought
There are clear benefits to becoming a GP partner – not least that GPs are private contractors and, thus, can run their practices, care for their patients and lead their staff as they wish – as well as significant financial reasons to become a partner.
For those considering becoming a practice partner – whether as a practice manager or a GP – there are certain elements you would do well to look into before signing anything. After all, to become a partner is a long-term commitment; you need to be sure that you are investing in something you believe in, which you feel is the right fit for you personnel-wise (other partners and wider practice team) and workload-wise (you will also need to look at the models of care that they apply and whether these are open to change and improvement). What do others say about the practice?
The practicalities of partnering up
So, what can the practice do to ensure that it's ready for a new partner? As practice managers juggle the day-to-day of the surgery, welcoming a new partner to the practice comes with additional considerations – in terms of administration, but also patient care. Here are some key points to consider:
Review your practice's partnership agreement
Your existing partnership agreement needs to be up-to-date and signed by all partners – new and existing. This will clarify the full commitment and share of profits for each partner, any financial commitments, provisions in the case of prolonged absence, succession and valuation of practice assets, such as premises.
Funding and finance
Incoming partners are entitled to review the practice's accounts and should be given the opportunity to review the last three years. This ensures transparency; they know the financial status of the practice and can forecast potential returns.
Conversely, be prepared if the incoming partner requires bank finance. Banks will usually need to see the signed partnership agreement.
Trial and error – include a probationary period
This gives the practice, existing partners and new partners a cooling-off period and an opportunity to review performance – and, ultimately, an opportunity to reflect on whether the partnership will work out.
Consider setting a new partner's profit share to rise over a given period and, also, you should be looking to the future; if you will require additional capital in the future, this is an opportune moment to plan for it – include it in your partnership agreement.
The practice premises
This can be a complicated area: are premises leased or owned? If owned, is it by one, some or all of the partners? If leased, what are the lease terms?
If the practice premises are owned the BMA outlines the following as key points for the incoming partner.
If required to 'buy-in':
the share they'll be asked to acquire;
whose share they will acquire – departing partner?
how the share is valued;
expected completion date on buy-in.
If they are not required to buy-in:
who are the current owners;
the terms governing the practices' occupation of the premises;
if there are no terms the partner will probably need to know what security there is that they can remain on the property should all property owners leave;
where responsibility for repairs and maintenance lie.
If leased, the BMA recommends that you make the following information available for incoming partners:
the term of the lease;
rent and other sums payable under the lease – and what is reimbursed;
rent review provisions;
repair and maintenance provisions;
historic dilapidations;
break clause – if any.
Dissolution agreements: conditions for expulsion, retirement or departing partners
It's worth reviewing the conditions for expulsion/compulsory retirement/retirement. Are they up-to-date? Do they fit current policy? For example, what are the terms if you have an underperforming partner, or one that does not represent the practices vision or ethos? This is, essentially, a safety net.
Your partnership agreement should include guidance in the case of sickness and leave, ownership of the premises, voting and meeting, suspension and retirement and should include a detailed dissolution clause.
This clause will detail what should happen should a partnership go wrong – how and when the partner's capital or current accounts will be repaid, for example – as well as restrictions and timelines for departure and any repayments on both sides.
A matter for HR
The NHS local team and the NHS pensions agency must be informed that a new partner has come on board. The NHS local area team must recognise them as a party to the practice's contract – whether GMS, PMS or APMS – to ensure that contract payments go to the right places. The pensions agency is responsible for ensuring that any previous funds which have built up are transferred accordingly.
Best practice
While this has become a long list there are a couple of things that the practice – and particularly the practice manager – can prioritise in order to ensure a seamless transition. For example, up-to-date accounts – detailing profitability now and on the horizon – as well as general practice management, such as having the right documentation to hand and current, clear insights into practice incomings and outgoings, as well as a detailed plan.
Don't forget to follow us on Twitter, or connect with us on LinkedIn!