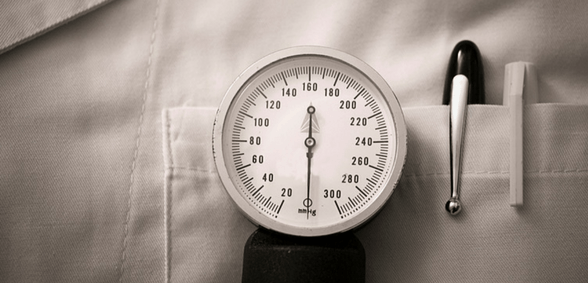 CREDIT: This story was first seen on BMA News
'Unprecedented' demand on the NHS has left corridors packed with patients, people waiting for eight hours before even being seen and senior staff in tears, in conditions a senior doctor said many had never experienced before.
BMA News reports that doctors have said that a culture of financial short-term fixes is failing the NHS, and only a sustainable funding settlement will prevent it lurching from crisis to crisis.
Cold weather, a particularly aggressive strain of flu and a high incidence of respiratory problems have been the most recent catalysts for an increase in demand on emergency medicine departments, GP practices and ambulances services.
NHS England has taken drastic action to avoid plunging hospitals into further crisis, recommending local health leaders cancel all non-emergency operations and outpatient appointments for the whole of January. This is likely to affect around 50,000 procedures in England.
An emergency medicine consultant at a Midlands hospital, who wished to remain anonymous out of concern for his colleagues, told the BMA consultants from across his trust had offered to help but had been unable, with the entire emergency department full and no room in which to operate.
'I came on to shift yesterday afternoon and there were patients literally everywhere,' he said. 'The corridor into the hospital was so busy we couldn't have got a cardiac arrest patient through it into the resuscitation room.
'There were people in our corridors for eight hours before we could see them. There's a prevailing fiction that says you can manage your way out of any problem. But eventually the problem is resource and yesterday it was resource. We didn't have the physical space. It was an impossible situation.'
He added: 'To say staff were at the end of their tethers would be a complete understatement. Very senior nurses were crying and managerial staff were crying with frustration for not being able to do what we wanted to do.'
It is a chaotic picture echoed across the country.
University Hospitals of North Midlands emergency medicine consultant Richard Fawcett described the conditions in his department as 'third world', and said his trust had 'run out of corridor space' and was closed to ambulances.
The Queen's Medical Centre in Nottingham declared an OPEL 4, corresponding to what was formerly known as a black alert, on Tuesday evening with 140 patients in its emergency department at its busiest – significantly more than the 80 to 100 usually considered a strain.
An OPEL 4 situation is where organisations are defined as being 'unable to deliver comprehensive care' and where there is 'increased potential for patient care and safety to be compromised'.
And the North East Ambulance Service said it had been hit by 'unprecedented levels of demand' over Christmas and New Year, calling for patients to find alternative transport options – 'such as a family member'.
'We are seeing conditions that people have not experienced in their working lives,' said Royal College of Emergency Medicine president Taj Hassan, a consultant in Leeds.
Conservative MP for Totnes and health select committee chair Sarah Wollaston said the Government needed to 'get a better grip' on the crisis.
She said on the BBC Radio 4 Today Programme: 'Certainly what we have is a system that is running at absolutely full stretch across both health and social care. And, despite all the planning that we've heard about, I'm afraid there are serious issues with capacity, far too many bed closures that have happened, and probably not enough money that has gone in over a number of years now to keep up with the sheer scale of the increase in demand and complexity.'
BMA representative body chair Anthea Mowat said: 'What is happening in our A&Es is symptomatic of pressures across the entire system. Hospitals are at capacity, GP surgeries are full, and a shortage of social and community care means that many patients who no longer need to be in hospital can't be discharged as there is simply nowhere for them to go.
'Short-term fixes, however well meaning, will only get us so far. Each winter the pressure on the NHS worsens, and politicians are not taking the long-term view needed to ensure the NHS can keep up with rising demand.
'We have to look again at NHS funding, which remains well below what other comparable European countries spend on healthcare, to ensure the NHS has the staff and the capacity needed to deal with the pressures it faces year in, year out, but which are compounded during the winter months.'
BMA GPs committee chair Richard Vautrey said: 'With limited resources and rising demand it's the right thing to prioritise the sickest but this is yet another sign of how much pressure the NHS is under. It'll also mean that GPs will not only have to cope with the rise in seasonal illness impacting on their patients but will now also have to manage patients waiting longer and longer for procedures they need.'
NHS England issued a list of new 'recommendations' to hospitals on Tuesday evening, in the light of the growing crisis, saying 'further action' was needed to increase capacity.
A statement said non-urgent elective work should be cancelled at least until the end of the month – but 'cancer operations and time-critical procedures should go ahead as planned'. Mixed sex wards would also escape sanctions to help alleviate pressure.
It follows a BBC News investigation last month which found a five-fold increase in patients in England waiting more than four hours for admission since 2011.
Health secretary Jeremy Hunt said the decision to cancel operations and outpatient appointments was 'methodical', citing fewer last-minute cancellations, but apologised to patients. He said NHS staff were 'heroic'.
Don't forget to follow us on Twitter, or connect with us on LinkedIn!