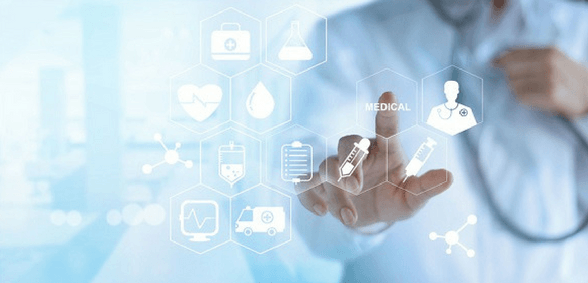 Ninety-three per cent of GP practices in England have successfully adopted the electronic prescription service (EPS) and, according to NHS Digital, an estimated 62.5% of prescriptions were dispensed through EPS in June this year. A steady step towards making paper prescriptions redundant. We consider EPS – the benefits to practices and how it works
EPS allows prescribers to send prescriptions electronically to a dispenser – such as a pharmacy – of the patient's choice. This makes the prescribing and dispensing process more efficient and convenient for patients and staff. The benefits of EPS to the three essential parties in the prescription process are simple:
prescribers can process prescriptions more efficiently and spend less time dealing with prescription queries;
dispensers can reduce the use of paper, have improved stock control, and provide a more efficient service to patients;
patients can collect repeat prescriptions from a pharmacy without visiting their GP, and won't have a paper prescription to lose.
Benefits to the practice
In general practice the benefits – to the entire practice staff are many:
prescriptions are processed more efficiently;
you can sign individual or multiple prescriptions electronically, there is no need to sign by hand;
during face-to-face, telephone or video consultations, prescriptions can be sent to the patient's nominated pharmacy, reducing footfall in the practice as patients collect their prescription from the pharmacy instead;
no need to post prescriptions, saving time and removing the risk of prescriptions getting lost in the post;
replacement prescriptions no longer need to be faxed.
Overall, there is less time spent dealing with prescriptions this is because;
standardised prescription information reduces the number of queries from dispensers;
improved prescription accuracy reduces the chances of patients receiving the wrong medication;
electronic prescriptions can't be lost, reducing the risk of duplicate prescriptions being created;
no need to prepare and sort prescriptions ready for pharmacies to collect;
less chance of prescriptions going to the wrong dispenser ;
suitable patients can be moved on to electronic repeat dispensing, reducing time spent issuing and re-authorising prescriptions;
Plus the prescriber – and thus the practice – has greater control over prescriptions; prescriptions can be cancelled at any time until they have been dispensed, and replacements can be sent electronically if needed.
EPS resources for practices
Adopting a new process will require support, guidance and advice. The NHS has provided some useful resources to help practices make the most of EPS.
NHS Dictionary of Medicines and Devices and prescribing systems
The NHS Dictionary of Medicines and Devices (dm+d) provides a standardised reference for medicines and medical devices for use by different clinical systems.
Download the dm+d factsheet to find out about some of the common issues when using EPS release 2.
Nominations
To use electronic prescriptions, patients choose where their prescriber will electronically send their prescriptions to. This is called nomination.
patients choose which pharmacy they wish to nominate, and this can be changed or cancelled at any time;
patients must be fully informed about EPS before their nomination can be set on the system (you can direct them to this useful information for patients);
changes to a patient's nominated pharmacy can only be made at the patient's request;
nomination is suitable for most patients. Patients on regular repeats and who use the same pharmacy most of the time will see the most benefit.
Read more about nominating a pharmacy.
Generating and signing electronic prescriptions
Prescribers working in a GP practice can apply electronic signatures to prescriptions. These are unique to individual prescribers and applied using the user's smartcard and passcode.
Read more about generating and signing an electronic prescription.
Cancelling electronic prescriptions
You can cancel the whole electronic prescription or individual item(s) on the prescription at any point until it's dispensed to the patient. A reason for cancellation is requested and then a cancellation message is sent to the Electronic Prescription Service.
It's the responsibility of the person cancelling to ensure the patient is informed. Dispensers are notified of cancellations when they attempt to retrieve the electronic prescription.
Read more about cancelling an electronic prescription as a prescriber.
Prescribing and dispensing tokens
Paper copies of electronic prescriptions will always need to be made available by the GP practice or the pharmacy, where necessary. Paper copies of electronic prescriptions are called 'tokens'. They act as a hard copy of the details contained within the electronic prescription.
There are two types of token; prescription and dispensing.
Read more about prescription and dispensing tokens.
More information available on NHS England
Don't forget to follow us on Twitter, or connect with us on LinkedIn!