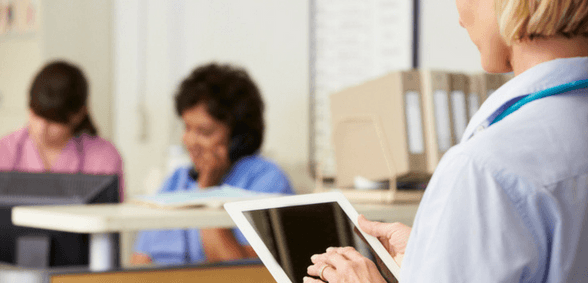 We never stop learning. The GP Forward View promoted the training of practice staff – and ring-fenced funding for this purpose. Gemma Tonkinsmith, learning and development and employee engagement lead at Hilton Nursing Partners, considers the importance of learning and development for the health and social care sector and the benefits it can bring to the whole workforce
Learning and development are essential practices within the healthcare and social care sector. Fundamentally, as an industry, we have a duty of care to keep patients safe and we therefore need to ensure that the workforce is competent within their roles. Ongoing research, and developments within the sector, mean that it is imperative that staff are up-to-date with any changes in legislation or organisational procedures to ensure that they are working to best practice.
Patient confidence
Learning and development practice is critical for all patient-facing employees, whether registered or non-registered. To build and maintain a strong therapeutic relationship, patients must feel confident that the people caring for them are knowledgeable and appropriately skilled – or are willing to develop their skills. With the focus on providing person-centred care, staff may need to develop new skills to support the needs of individuals. This could include learning how to use new equipment or enhancing their communication skills.
Person-centred care
The workforce must have a good understanding of why person-centred care is so important, recognising barriers to providing it and identifying ways to overcome them. For example, at Hilton, the focus of training – whether it be medication, pressure area care or moving and handling training – is to promote dignity in care. Staff need to learn how to promote choice and independence through supporting decision-making and positive risk management. All employees involved in providing care must be confident in understanding capacity and consent. The Mental Capacity Act 2005 provides a framework to ensure patients are supported to make choices or, if unable to, decisions are made in their best interests.
Progressive learning and training
Learning and development training within healthcare and social care must be relevant to the roles of the staff – it must be clear how training will impact the people they care for. Reflective practice is an ideal way for staff to learn from experiences, both positive and negative. Team leaders and trainers can facilitate individual or group reflections to explore events and, most importantly, identify how they can improve their practice or what additional training they may require.
Training should be adaptable and flexible, able to respond to the changing needs of the service and the workforce. Staff with limited time, and those working remotely, may benefit from bite-size training delivered using internet-based platforms such as webinars and video links. Linking with other professionals and voluntary organisations can increase the resources and expertise available, whilst also building vital relationships to enhance collaboration between services. Working in partnership with academic and professional institutions can result in bespoke, accredited courses designed to meet the specific needs of both the workforce and the organisation.
Job satisfaction
Ongoing learning and development enhances job satisfaction and is vital in maintaining employee motivation and commitment. Supporting career progression can bring benefits to both the employee and the organisation. But it isn't just about helping staff to move up the career ladder; some staff want to remain in the role and be the best that they can be, which is equally as important. At Hilton we provide this support through a mentorship programme, shadowing, the funding of external courses and the development of a leadership academy.
Further opportunity
There are huge opportunities for learning in the workplace and it doesn't need to be restricted to the classroom. Trainers completing one-to-one learning sessions for staff whilst working can provide a great chance to link theory to practice. To gain a genuine view of the patient experience, patients themselves could be included in learning and development programmes.
About Gemma
Gemma Tonkinsmith is Hilton Nursing Partners' learning and development and employee engagement lead and, in 2017, she won the Care Trainer Award at the Regional British Care Awards. She has previously worked within community healthcare settings in London and Kent and has undertaken nursing home management roles. She has also worked in the education sector as a sessional lecturer in the Faculty of Health at Canterbury Christ Church University. Her last role was as a senior nurse assessor in NHS Continuing Healthcare.
Don't forget to follow us on Twitter, or connect with us on LinkedIn!