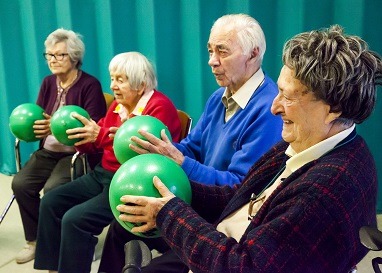 An aging population, often with more complex needs, is weighing heavily on NHS services. Is physical activity a potential means of improving the health of the population and reducing hospital admissions? The Royal Voluntary Service (RVS) is calling for a nationwide role out of Move it or Lose it! – a resistance-based exercise programme intended to improve physical function in frail, elderly people. Dr Allison Smith, head of strategy and development of the RVS, discusses the programme and the role GP practices can play in getting patients active
According to Falls prevention: New approaches to integrated falls prevention services, an estimated one-in-three people over the age of 65, and one in two over 80, will fall each year. In an ageing population, sarcopenia has been identified as an underlying cause of falls as outlined in Health matters. Keeping mobility and strength enables older people to live independently in the community for longer. In later life, though, it seems not all exercise is equal. As we age, resistance and weight-bearing exercise is critical to counter the rapid loss of muscle mass and strength, particularly following a period of illness, surgery or an accident.
Move it or Lose it!
This chair-based resistance exercise programme designed to address this has been found to deliver significant benefits for frail older people – and primary care could play an important part in its future. Evaluation of an eight-month pilot run by Royal Voluntary Service and a specialist exercise provider has shown positive impacts on physical function and wellbeing.
The programme was piloted in Banbury, Leicester, Oxford and Suffolk in 2016 and involved 60 older people. Classes were delivered by specially trained volunteers in community centres or as part of Royal Voluntary Service's Home from Hospital service.
Positive impact on physical and mental health
In the study functional improvement was achieved in 61% of the sample and, on average, participants improved by 2.4 points out of 12 when using a short physical performance battery. The pilot primarily helped to shift people from low to moderate functioning, with functional improvement achieved in quite a short period of time – 10 to 14 weeks.
How GPs can get involved
We want to be able to offer Move It or Lose It! classes in every community and with their trusted and familiar relationship with older patients, as well as their location within the community, GP practices are well-placed to deliver the programme. A reliable test of whether an older person is losing mobility and independence is to observe how easily they get out of a chair at a surgery appointment; this is an ideal referral point into the exercise programme.
Classes can be delivered at relatively low cost – particularly if a practice can provide a room to run the. Trained RVS volunteers would lead the sessions and, if needed, provide the mentoring support some patients might need to build confidence. Classes could either be self-funded by patients (approx. £3.50 per class) or practices could seed-fund the first few classes as 'taster sessions' in order to establish a regular client base before moving to a patient-funded model. These classes also aim to build in a social element so that what motivates people to keep attending is not only staying active but also seeing and socialising with friends.
Benefits to older patients
Patients with coronary obstructive pulmonary disease, diabetes, arthritis and other long term conditions will feel the benefits of the Move It or Lose It! programme too because the less patients with these conditions move, the worse their condition affects them. Patients showing signs of poor emotional well-being, as a result of loneliness or isolation, for example, will also benefit from the social connections made during classes.
RVS and Move It or Lose It! have a proven solution to reduce frailty and help older people live more active, happier, independent lives. Integrated into the health system, and delivered at scale, the programme would reduce hospital admissions and demand for health and social care. We welcome enquiries from GP practices to discuss this exciting programme further. Please contact Allison Smith or visit the Royal Voluntary Service (RVS) site.