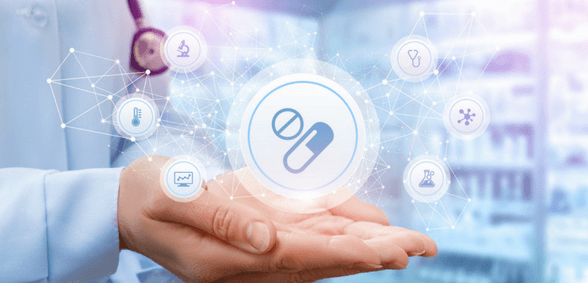 General practice is changing; how care is delivered in the practice setting is evolving to better meet the complex needs of ever-growing patient lists. The approach is patient-centred, the team is multi-disciplinary, and the outcome is improved quality of care delivered through a more efficient care model.
We speak with Ceinwen Mannall, the Centre for Pharmacy Postgraduate Education's (CPPE) national lead of clinical pharmacists in GP education, about the role of pharmacists and pharmacy technicians in general practice and the CPPE training pathway leading the way.
Patient-centred care has taken centre stage; rather than being prescriptive, it's responsive to the individual patient – their preferences, needs and values – and ensures their involvement with, and understanding of, clinical decisions. Essential to its delivery is the multi-disciplinary GP practice team – each member of which brings a different area of expertise.
Having pharmacists and pharmacy technicians in the GP practice team is key to developing a sustainable care model that can cater to the evolving needs of patients – something reflected in the additional focus and funding outlined in the 2016 General Practice Forward View (GPFV). The CPPE is helping to deliver on this priority through its 'Clinical Pharmacists in general practice education' (CPGPE), which supports the continuing professional development of pharmacists and pharmacy technicians.
Delivering specialist, patient-centred care
Pharmacists and pharmacy technicians play an integral role in general practice – offering patient-facing, patient-centred care by providing medication reconciliation, advice, reviews and high-priority common and long-term condition management. Further, they're well-placed to provide continuity for patients with long-term conditions, liaising between care settings, and can provide public health interventions, advice and support for self-care, health and wellbeing and, as a result, supporting the self-management of conditions.
The benefits to patients – and practices – are many, but there are particular areas where pharmacists are essential to improving patient care, explains Ceinwen Mannall, of the CPPE. "I would summarise them as leadership and quality improvements in use the use of medicines within the practice," she says. For example:
Improving care when patients move between care settings; pharmacists can safely action discharge letters, work with prescription clerks to improve processes and introduce the right person to continue care.
Leading practice education about medicines issues, safety and evidence; answering patient queries particularly around the prescribing of medicines and medicines use. Pharmasists can take action following queries/referral from colleagues – for example, unusual or specialist use of medicines, including shared care, prescribing and supplies for children with unusual medicine requirements, and working out what to prescribe and liaising with community pharmacy regarding supply.
Putting patients in the driving seat
Clinical pharmacists provide additional resources in terms of the management of long-term conditions and the optimisation of medicines – a welcome resource for practices managing increasing numbers of patients, under increasing time pressures. "Pharmacists are more likely to be able to spend the time completing a comprehensive, in-depth medication review involving answering medicines questions and supporting patients to self-care," Ceinwen tells us – having the opportunity to discuss a patient's health at length means they can help patients act and improve their health, tackling sensitive issues such as obesity, or contentious ones such as smoking.
Not only are pharmacists equipped to review a patient's medication, they can also optimise the use of medicines. "Pharmacists frequently make changes when undertaking a medication review to simplify medicines – stopping medication that is no longer beneficial or making safety changes when medication has an interaction and presents a new or unacceptable risk for the patient," Ceinwen explains.
For patients with long-term conditions, then, not only do pharmacists have a broad expertise relating to medical knowledge and medicines, they can also use clinical assessment skills to monitor and reassure people about their condition. "They can provide integrated, person-centred care which focuses on the patients' medical conditions," Ceinwen says.
Clinical pharmacists in general practice
The CPPE has played a fundamental role in bringing clinical pharmacists to general practice through education. In 2015 NHS England's Five Year Forward View announced a pilot scheme – phase 1, the 'General practice pharmacist training pathway'– the success of which was reflected in the decision announced in the GPFV to extend the scheme to phase 2 – the CPGPE – providing additional funding for another 1,500 pharmacists.
The scheme involves NHS England co-funding pharmacist posts in general practices across England, Ceinwen says, with the aim of introducing the GP clinical pharmacist role on a large scale and across a significant proportion of GP practices in England. "The scheme also includes NHS England funded education for the pharmacists (provided by CPPE) and an organisational change programme for practices provided by Primary Care Commissioning."
Now, according to the RCGP's second GPFV annual assessment, the scheme is 'on track to exceed its target of 1,500 by 2020/21'.
Education and development
The CPGPE pathway delivers training and education to enable clinical pharmacists and senior clinical pharmacists to embed their roles in general practice as part of the multi-disciplinary team. The training takes a 'multi-pathway approach', with a range of modules linked to learning outcomes.
"On all pathways pharmacists study at the level relevant to extending their existing knowledge and skills," Ceinwen explains; each pharmacist will complete a comprehensive learning needs analysis to determine which of the three pathways best suits their needs.
All CPPE pathways include:
Learning to prepare for a patient-facing role – developing consultation skills and medication review techniques.
Learning to apply and extend existing therapeutics knowledge in a general practice setting – so, developing knowledge in clinical areas such as pain, and therapeutic areas that are ideal for pharmacist care. This will depend on local patient need, existing practice expertise and NHS priorities – for example, including respiratory, diabetes, mental health, cardiovascular.
Learning to develop those skills that pharmacists traditionally lack in comparison to GPs and nurses, such as clinical assessment skills, which enable pharmacists to monitor long-term conditions. Also, to develop new skills to effectively and efficiently refer patients by presenting a holistic assessment or managing more acute care.
Developing leadership skills to equip pharmacists to make and lead change and practice improvements.
Clinical pharmacist in practice
As the clinical pharmacist is a relatively new addition to the multi-disciplinary practice team there are a number of ways that practices can ensure that they are fully-integrated with the practice team and that patients understand their role in the practice and their healthcare, and that they're aware that this is an additional healthcare service provided to them. Educating practice staff to understand the role played by the clinical pharmacist is the first step to ensuring a successful introduction. "Give the pharmacist an opportunity to explain their role in practice meetings," Ceinwen advises, "and understand that the role will develop in time."
Practice managers can help establish the pharmacist within the practice team by placing them physically as a clinician. "Give them an office or a desk with other clinicians such as GPs, nurses, physio and mental health workers," Ceinwen recommends. "If you give them a desk in reception they will do an excellent back office job regarding safety, writing protocols, changing systems and answering queries but will find it hard to develop the patient-facing role that will make an impact on practice workload and patient care." It's also important that patients are fully-aware and understand their position, and sign-posting can aid this. "Use the NHS patient leaflets and examine your triage and appointment systems to decide how the new role can be effectively and appropriately offered to patients," Ceinwen says.
Leadership and management are key to developing the role, ensuring it makes the desired impact and will support the practice to 'do things differently', Ceinwen says. To establish this, she advises that you don't fill the pharmacist's time completely and set leadership objectives – such as quality improvement. The more senior the role, the more responsibility; for example, a senior pharmacist might, additionally, support GPs to ensure appropriate clinical work and roles for clinical pharmacists – etching out what the role looks like in general practice and providing the support and guidance necessary to expand it.
The additional resources and the skills that a pharmacist or pharmacist technician can bring to your GP practice team are invaluable – especially as practices are faced with new challenges which require new solutions – or a fresh approach.
Don't forget to follow us on Twitter, or connect with us on LinkedIn!