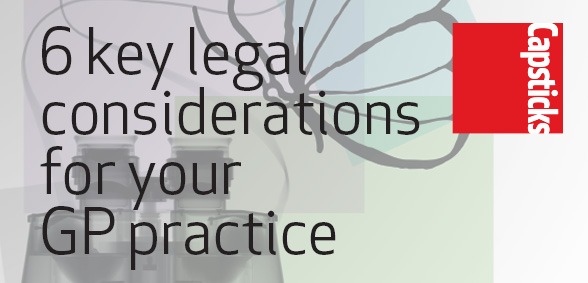 General practice is unique in its set up; that GPs are publicly funded organisations, yet independent contractors that operate in partnerships makes the general practice model a slightly more complicated business model with a myriad of legal issues that practice managers and GP partners must deal with
This in mind, Capsticks – the leading legal healthcare law firm in the country – has developed a detailed publication which tackles six key legal considerations practice managers and GP partners should be aware of. This practical guide is designed to help you navigate the ever-changing healthcare sector and enable you to make informed decisions as you plan for the future of your practice.
The featured publication examines:
partnership agreements – and ensuring that they are up-to-date;
maximising the value of your premises;
GP practice mergers – ensure a smooth merger;
alternative options for primary care at scale;
ensuring your practice staff and patients are safe and secure on premises;
effective dispute resolution.
For further information contact a member of the Capsticks team.
Take a look at the PDF, here, or download a copy to keep and share with colleagues.