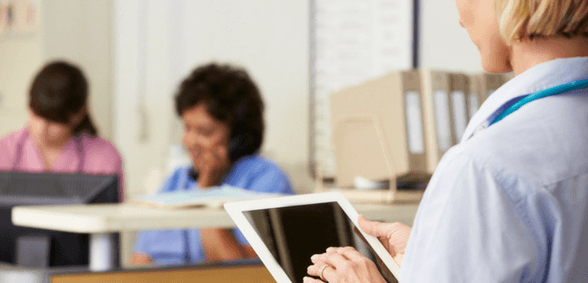 The GP Forward View presented 10 high impact actions to promote operational efficiencies and ring-fenced funding for practices wishing to train up their staff. Simon Harker, content editor at First Practice Management (FPM) Group, discusses how one such type of training, correspondence management, can work for you
We're now almost two years on from the publication of the GP Forward View (GPFV), a 60-page document with the small job of kick-starting the rejuvenation of general practice. Since its release in 2016 many primary care organisations have taken the opportunity to access funding ring-fenced for the training of clerical staff in correspondence management.
But what exactly does this involve?
Defining correspondence management
To get a full picture of the potential benefits of correspondence management we need to understand what exactly it means and who will be involved. The GPFV, helpfully, defines it for us as, 'All incoming correspondence about patients from hospitals [being] processed by a member of the clerical team.'
You may also hear this process being referred to as 'workflow optimisation'. Stripping it down to its most basic elements, correspondence management means empowering clerical staff to play a greater role in the navigation of patients through the care system, stemming the tide of clinical paperwork passed to GPs each day.
Thornfields is FPM's primary care training arm. In the time Thornfields has spent developing and delivering our correspondence management training to practices and CCGs across the country, we've identified a number of key benefits.
Meeting the GP Forward View
The 10 high-impact actions (HIAs) presented in the GPFV are key drivers in NHS England's efforts to release more time for GPs to spend with patients. Correspondence management ties in most closely to the fourth and fifth HIAs, which are concerned with developing the team and creating productive workflows.
The crux of this is working smarter, not harder – it's a case of equipping clerical staff with the necessary skills and information to review correspondence that arrives from hospitals themselves. With this knowledge they can then judge whether correspondence needs to go to a GP or if they can process it themselves.
Through our work with practices, we've found this has meant either introducing new ways of working or finding ways to refine and streamline existing processes.
Saving time for GPs
NHS England reports that using correspondence management typically results in a reduction of 60 to 80% in the number of letters dealt with by GPs. One case study told how its implementation saved a full day a week of GPs' time.
Using process maps, this practice team identified bottlenecks in their existing procedures. For example, they learnt that work was being duplicated when correspondence that didn't require input from GPs was simply being passed back to the receptionist who handed it to them in the first place.
By redesigning the processes, and following up on the project with regular audits, GPs reported that they "…used to get 70 plus letters a day – now we only see around four". This led to a striking time saving of around 1.5 hours per day of GPs' time – equivalent to one full day per week.
Empowering staff
It's not just GPs who benefit from this process however. Clerical staff members who take on the extra responsibility have, typically, reported enjoying a significant boost to their job satisfaction. The GPFV reported on a trial correspondence management scheme across 48 practices in Brighton where clerical staff reported that they were confident in handling their new task and reported 'renewed job satisfaction'.
Final thoughts
This refinement of procedures, coupled with changes to staff members' remits, shows a clear potential for improvement in general practice. Implementation is key, of course, but, with the right training and action plans in place, correspondence management affords GPs and clinicians a range of benefits.
This adds up to the ability to deliver a faster, more effective service to patients. When everyone is totally familiar with their roles and responsibilities they will be best equipped to pull in the same direction and work at peak efficiency.
About Thornfields
Part of the FPM Group, Thornfields provide high quality training courses to primary care staff, including innovative programmes to help clerical staff undertake enhanced roles in correspondence management. Thornfields recently won Education Provider of the Year at the prestigious GP Awards for the second year running.
Don't forget to follow us on Twitter, or connect with us on LinkedIn!