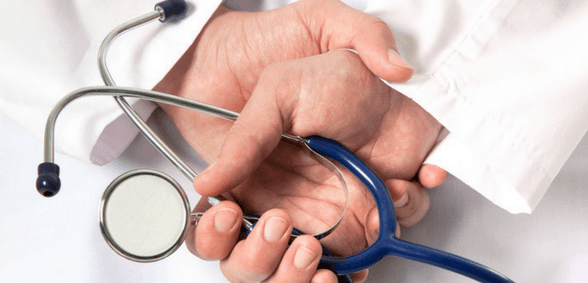 The private vs NHS GP question has been picked up by the media, with headlines such as 'NHS England to investigate 'questionable' private GP services' painting a negative picture of what could be a positive move for patients and practices. We caught up with Dr Dinesh Silva, GP partner of the Connaught Surgery, and Ben Teichman, CEO of Doctaly – an online private GP appointment service – to learn more
The NHS is under pressure and general practice is severely stretched – trying to provide care for a growing population, with more complex needs, on a diminishing budget. Over the last five years the landscape has changed dramatically, something that Dr Silva says has squeezed practices and resulted in instability for some. "Generating extra money is a life-line to sustain the practice; it helps to recruit GPs – which has become more difficult," he adds.
Back in October 2017 we investigated the 'patient-as-consumer' and the rise in demand for private healthcare. We spoke with Louise Allen, MD of political due diligence at GK Strategy, about a report, published by the consultancy, which indicated that patients are becoming more like consumers in their preferences – 'beginning to mirror what consumers have done in other consumer markets' – and attaching value to accessibility, convenience and choice. Interestingly, Louise observed, this reflects something that's been happening in the healthcare system overall. "The NHS itself has really been driven by a choice or patient-led agenda, so it's not surprising to see that trend coming through," she explained.
If having the option to go private is a service that patients want, why the push back? Will private care, as some have said, undermine the NHS and create disparity in care? Or, can it provide accessibility, convenience and choice for patients and, perhaps, for an overwrought and underfunded service, provide an additional support and generate additional funding?
Servicing a need: additional capacity, flexibility affordability and convenience
Dr Silva is a GP partner in what he terms a 'relatively small practice'. The idea for Doctaly, he says, came from asking, 'What are GPs allowed to do – without compromising their NHS provision – to generate extra income?'
"I had previously undertaken some private work for other people and I know that lots of other practices have small enclaves of private patients," he says. The idea, then, was an answer to his question; the provision of support to practices so that they could incorporate some private work and boost practice income without compromising NHS care or making it unduly expensive. Capacity and affordability were core components in achieving this.
"We have a GP workforce that is 50% part-time and, if we can mobilise these GPs, and encourage them to do additional work on much more flexible terms than the NHS allows, then we can increase appointment capacity," Ben explains. As for affordability, because it is based in an existing practice, outside of contracted hours, patients are paying strictly for healthcare and GPs are charging strictly for healthcare; overheads are kept to a minimum – if not absorbed.
Private vs NHS
This is a key point. Back in 2016, when Doctaly was first to be rolled out across England following a successful two-month pilot in London, there were concerns that the provision was 'the slippery slope towards the privatisation of the NHS'. At the time Dr Jackie Applebee, chair of Tower Hamlets LMC in east London and Doctors in Unite representative on the GPC, told Pulse, "It introduces the principle of topping up NHS services with purchased services if one has the disposable income. If the more affluent begin to do this in significant numbers it is only a small step to an insurance-based health service."
Ben is quick to dispel this, pointing out that one of the big priorities for Doctaly was to avoid disrupting existing processes for doctors. "They use their existing patient record system – which they are comfortable with – for registering patients who come in via Doctaly. The only difference is that these patients are registered as private patients, are exempt from QOF, and any prescriptions generated by Vision or EMIS would be private prescriptions," he says. This, he adds, is the end of additional workload generated for the practice team.
Where practices have opened their doors to private patients in this way existing processes are not impacted and nor is the NHS provision; private appointments run before and after NHS clinics, during lunch breaks, on their admin day or even on the weekends; it's up to the doctor. "GPs have to be completely mindful of their primary role as NHS doctors," Ben points out.
What does this look like in practice?
If your practice is considering taking on additional patients using private capacity there will be administrative ground work to be managed. For example, processing private patients, scheduling and managing appointments, staffing – if it's outside of operational hours. Platforms, such as Doctaly, account for this.
"We've paid particular attention to ensuring that it doesn't create additional administrative work. The booking process for the patient and doctor is simple – all it takes is for the GP to inform the practice team that the patient is coming. It piggy-backs onto the existing practice infrastructure with little disruption," Dr Silva explains.
So, while practices provide the space and the care, Doctaly provides the additional tools and resources that practices may not have, such as reach. "If an NHS practice wants to start doing private work they can only really tell their existing patients – and they are not allowed to treat them through their NHS England contract which states that they're restricted from treating their own patients privately," Ben explains. Working with an online private GP appointment service extends a practice's reach – the service drives patients to the practice.
Rising to meet demand
"Convenience is something that people pay for in all walks of life and healthcare is the most recent industry to be commodified through digital solutions," Ben says. But this is not a negative thing, he argues; rather, it gives patients the choice that they want, while improving access. "We're not necessarily trying to change what exists – there are a lot of patients, for whatever reason, who choose not to pay for medical treatment and we're not going to convert those patients. However, a lot of other patients like having the choice – like the fact that they can get a doctor when they're working, for example."
There is growing demand for more accessible care and, where the average wait-time for an appointment with a GP is 13 days, it's not surprising that patients are looking for alternative routes to care – even if the convenience comes with a price tag. "By creating this additional level of supply my hope is that we're going to take away a bit of the pressure from other areas in the NHS. I don't think that we're creating an unnecessary demand; I think that the patients we are seeing needed to be seen," Dr Silva adds.
"From a GP perspective, Doctaly supports the practice in an equitable manner," Dr Silva says. "In a big practice, with lots of GPs, no one is excluded. Similarly, in a small practice with one or two GPs, all are supported equally – there's nothing to stop any GP from creating profiles and starting to see private patients. Working in this way provides a level of control, but from the bottom-up as opposed to the top-down approach we see so often as healthcare providers."
The Crowdcube campaign which Doctaly ran to help support the platform recently ended on an exceedingly positive note; the campaign reached 178% funding, finishing at £882,680 with 1,184 investors. Check it out here: 
www.crowdcube.com/doctaly
.
Don't forget to follow us on Twitter, or connect with us on LinkedIn!