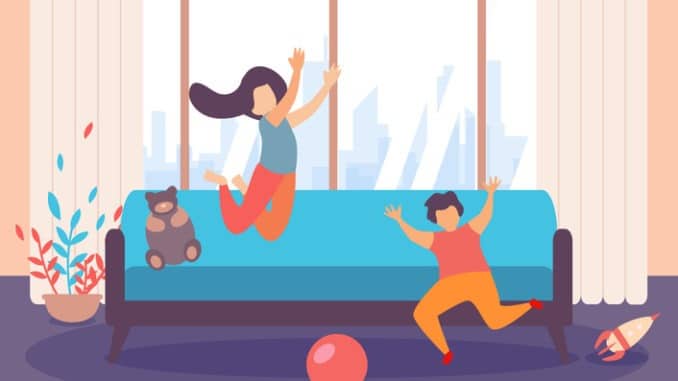 Working parents are, once again, contending with professional life and employment whilst juggling child-care, home-schooling and the daily demands involved in keeping families safe, healthy, entertained and on good terms
CREDIT: This is an edited version of an article that originally appeared on Robert Half
While the benefits of working from home can be great, they can also come at a cost; not being physically present, for example, can take a toll on working relationships, as can the constant distractions and interruptions that come with sharing a working space with children.
Finding a way to effectively balance the needs of family and working from home can take time to adjust to — and every day can bring a new challenge. So, how can you maintain productivity and a clear mind with multiple daily distractions?
With some thought, and pre-planning, it's possible to mitigate the professional risks without jeopardising your family relationships.
Choose a designated workspace
Preferably an office, desk, or the dining room table. This sets the expectation that, when you're in that space, you are off-limits to interruptions.
A mental separation for adults
When we mix our working environments with the rest of the home, it's easier for us to feel as though we're always at work. A dedicated workspace can prevent the blur between the two, particularly if that space has a door with which to separate the working adult from distractions and help keep the focus on work, not the kids.
This may not always be possible, but a pair of noise-cancelling headphones can work just as well to create a mental space that is conducive to supporting your work flow.
A physical association for kids
It's not just the adults to whom the separation matters; having a clear, designated space can help to establish a clear boundary for children. In cases where a door between the primary caregiver and the child isn't viable, or appropriate, maintaining separate work and play spaces within the same room can still create a distinction and space where the adult can work while the child plays.
Create a daily itinerary with set hours
Creating a daily routine can set expectations and help kids know what's ahead; it can also help you create a sense of routine. Set times for lunch, breaks and finishing time and consider a reward if the children behave, such as offering to take them to the park when work is over.
It's much more likely that a conference call in the morning will pass without interruption if your kids know that, at lunchtime, you will be able to focus your attention solely on them.
As many professionals get to grips with working from home with kids, the idea of maintaining nine-to-five business hours just isn't the same. If there is space for it within the work from home arrangement, organising the day around the hours that are most conducive to productivity and flow can even increase productivity. Having business hours will also help to:
maintain that physical separation between work and home lives;
create a clear beginning and end to the workday;
provide set hours during which colleagues can get in touch – and when they can expect a response.
Set clear expectations with colleagues
It's important to set expectations early on – for both colleagues and family. Being up front on the challenges and/or limitations being faced at home can help teams to work with us to work around problems, and create schedules that support one another, so that staff can work more efficiently together. This way the distractions and interruptions that can come with working at home with kids can be limited from a work perspective as well.
The good thing about being open and honest with colleagues and managers is that teams with a high level of trust are also often higher-performing. So, work with your team to find a way to effectively balance the needs of work and home, and help to build a greater sense of trust and understanding.
Set up the day with a family meeting
Setting up the day by meeting together as a family can provide a touchstone for children in which they feel secure and supported; this is particularly important if working from home is new to the family and is changing set routines, providing a space for the kids to feel heard.
In order to focus effectively on your work, you'll have to find ways to help your children entertain themselves, get through any school work, and get some exercise. If they're old enough, task them with outdoor activities, like walking the dog. Do what you can to help them avoid boredom because this can lead to more interruptions.
When quiet is crucial, explain the importance of the obligation, what warrants an interruption – and what consequences they may face if an interruption proves unnecessary.
Give yourself a break
Remember that kids are kids; they will get bored, frustrated and break the rules from time to time, but try to maintain patience and a level head. Try to let go of perfection to maintain a healthy, positive mindset. Being able to spend more time at home with the kids is a wonderful opportunity and one to which many people aspire.
The real work begins once we are given the opportunity, and it's important to begin with a clear set of expectations. As a family unit, it is possible to maintain productivity and professionalism at home – together.