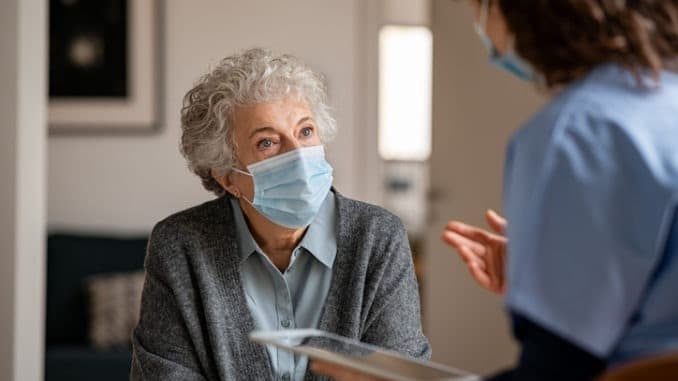 As reported by BBC news, a single dose of the Pfizer or AstraZeneca vaccine was effective at stopping 62% of coronavirus infections in care homes, a study has found
A team at University College London (UCL) looked at data from 10,000 adults in England with an average age of 86. The research also suggested those who did catch the virus after vaccination may be less infectious.
"Our data suggests that both vaccines are effective in frail, older adults," said UCL's Dr Maddie Shrotri.
The study analysed coronavirus test-result data for 10,412 long-term residents, all aged over 65, at 310 care homes. The group had routine monthly PCR tests for the virus as well as further targeted tests if an outbreak was suspected. Of the 36,352 tests carried out between December 2020 and mid-March, 1,335 came back positive for the disease.
By comparing those with the number of cases before vaccination, the researchers estimated both jabs were effective at preventing 56% of infections after four weeks, rising to 62% after five weeks. The timing and scale of the protective effect was similar for both the Pfizer and AstraZeneca vaccines.
"Our findings show that a single dose has an effect that persists from four weeks to at least seven weeks after vaccination," said Dr Laura Shallcross, a public health medicine consultant at the Institute of Health Informatics at UCL.
"We can also infer that the vaccines protect against the highly transmissible UK variant, as this was prevalent during the study period."
Around a quarter of coronavirus deaths in England and Wales have occurred in care homes, according to the latest data from the Office of National Statistics. Other elderly residents are likely to have caught the virus in a home before being transferred to hospital and dying there. Around 11% of care home residents in the study had already been infected with coronavirus in the past.
A single dose of either vaccine appeared to have little impact on that group, indicating those with a previous infection were already well-protected. A small proportion did catch the disease in the weeks after being given a single jab. But researchers said laboratory tests on samples from that group suggested they might be less infectious than those who had not yet received a vaccine.
"It's early data but we think that is potentially very significant, especially in a care home setting," said Dr Shallcross.
Although protection from a first dose in the study was described as "substantial", the research team said a second follow-up shot would still be important to increase the duration of immunity, and to maximise protection that is provided by vaccination.
The UCL research, which was funded by the Department of Health and Social Care, is part of the continuing Vivaldi study, investigating COVID-19 infections in care homes.
Prof Chris Whitty, Chief Medical Officer for England, said: "These data add to the growing evidence that vaccines are reducing COVID-19 infections and doing so in vulnerable and older populations, where it is most important that we provide as much protection from COVID as possible."