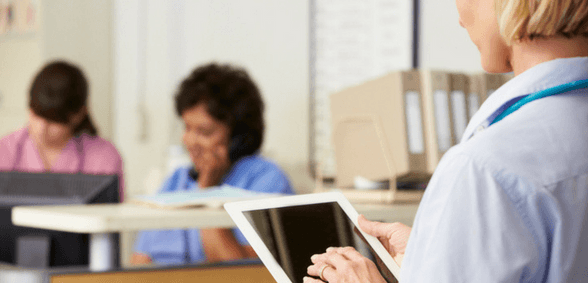 A recent paper published in the British Journal of General Practice explores the potential role of the receptionist in the implementation of new approaches to consultations in primary care. We take a closer look, picking out the how, the why and the what 
Communication technology is a tool that we all rely on more and more in our day-to-day lives, and one which practices are also adopting to ensure services run more smoothly and more efficiently. That such technologies can serve as alternatives – or at least gateways – to face-to-face consultations is something that policymakers are pushing within the NHS and we've observed the introduction of telephone, email and now online and video consultations.
While there are evident benefits, questions still hang over adopting alternatives to face-to-face consultations – with concerns revolving around their impact on patient safety and workload. Successful application of these new modes of consultation require a clear vision, precision management and, ultimately, strong and effective leadership – as every member of staff must be on board with such digital innovations.
A whole-practice approach
Receptionists' role in new approaches to consultations in primary care: a focused ethnographic study recognises that – to date – little consideration has been paid to reception and administrative staff when it comes to promoting and supporting new approaches to consulting. The authors observe that reception staff provide an 'essential interface' between patients and practice which includes managing demand while ensuring a safe and efficient service, and extends to ensuring fair access to healthcare services; however, they often lack training and support (something that the GP Forward View seeks to improve) and their role is often undervalued by GP and patient alike.
The study collected data from eight case study practices across England and Scotland which offered alternative methods of consultation; the authors examined which role reception staff play in the implementation, introduction and use of alternative methods of consultation.
Raising awareness and spreading the word
The pivotal role played by reception staff in checking that patients are aware of the alternatives to face-to-consultation was noted by the authors. However, in a linked study, it was shown that uptake in all eight involved practices was lower than anticipated. It was also noted that some clinical and management staff suggested it was unclear how actively reception staff were promoting new initiatives – especially e-consultations – and, despite the intention of practice managers and GPs, alternatives to face-to-face consultations were not routinely offered by reception staff – unless there was a shortage of appointment slots available.
A matter of training – encouraging alternatives
Face-to-face consultations were generally considered the preferred option to offer patients and the authors observed that the attitudes of reception staff towards the alternatives varied across the practices. 'Some reception staff held opinions about the merits of alternatives to the face-to-face consultation, which could have implications for how these are offered to patients,' the paper says.
Part of this might have been due to lack of training. Authors said that, in a number of cases, guidance about when and who to offer an alternative mode of consultation was lacking and, again, varied across practices. In one practice, for example, there was a list of presenting symptoms on the wall to help identify patients suitable for e-consultation while, in another, reception staff were relied upon to 'use their initiative'.
The paper reveals how expectations fail to match. For example, practice managers and GPs seem to expect the receptionist to be able to confidently prioritise patients and identify who needs to see or speak to a GP urgently; however, receptionists, it would appear, lacked the confidence to make such decisions.
This results in mixed levels of success in take-up of alternatives and, where reception staff were not on board with the new approaches to healthcare, a departure of staff.
Part of the pack
The paper makes clear that none of the practices involved reception staff in the process of deciding which alternative to introduce, and the majority had not consulted reception teams about implementation; nor did they discuss why they were being introduced – the intended outcomes.
The authors of identified a number of reasons for introducing alternatives to face-to-face consultations, from relieving pressure on telephones to reducing the reception team's workload – in once case seen as a cost-saving exercise that might mean a reduced reception team. However, little evidence was found to say there was a reduction in demand on reception staff – in some respects it is noted that there was actually more. For instance, the paper includes examples where receptionists felt it their duty to double-check details given to them by patients, recording additional details (such as reason for consultation) and trying to reconcile the consultation preference of GPs with those of patients.
'The onus appeared to be on reception staff to make the right decisions,' the paper concludes. It goes on to say that, while GPs and practice managers understood that introducing new approaches to consultation would be likely to cause difficulties, recognition of the impact on receptionists was minimal and not associated with any solutions.
Summary
What can practice managers take from all this? When introducing alternatives to face-to-face consultation every member of your practice team is impacted and therefore should be considered. As with any innovations or new initiatives introduced in the practice, it is essential that all your team is aware of the change, why the change is occurring, how it will be implemented – and are trained to put it into practice as best they can.
Key to a successful implementation, roll out and increased uptake in your practice is the co-operation of your reception team – who are the first point of contact for the majority of patients and, if given due attention and provided appropriate education and training, can play a pivotal role in improving access to care and delivering better patient outcomes.
Read the full paper a more detailed review of the study
Research was conducted by Heather Dawn Brant, Helen Atherton, Annemieke Bikker, Tania Porqueddu, Chris Salisbury, Brian McKinstry, John Campbell, Andy Gibson and Sue Ziebland
Take home points
When it comes to implementing alternatives to face-to-face consultations:
Ensure the rationale behind any changes or new approaches is understood by the entire practice team.
Consider the role of the receptionist as key when considering the introduction of new systems for how patients access care.
Involve receptionists in planning the implementation of these initiatives – supporting team members through service reconfiguration and providing an opportunity to discuss, and contribute to, modifications of any new system.
Provide adequate training for receptionists' new roles, along with clarity about expectations of them.
Don't forget to follow us on Twitter, or connect with us on LinkedIn!