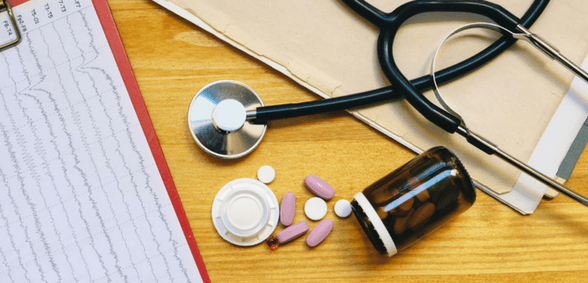 Five-year study draws to an end after recruiting over 30,000 aspirin users across primary care 
A study aiming to reduce the risk of stomach bleeding in aspirin users is believed to be the UK's largest interventional academic drug trial, thanks to its delivery within a primary care setting.
The study, known as HEAT, was funded and supported by the National Institute for Health Research (NIHR) and closed last month after recruiting patients over a five year period*.
Due to the large number of participants that needed to be recruited, the study was delivered with the involvement of 1,260 general practices across the UK.
*The Helicobacter Eradication Aspirin Trial (HEAT) is a double-blind placebo controlled trial, involving patients aged 60 years and over, taking ≤325mg daily and who had had 4 or more 28-day prescriptions in the last year. It was conducted in general practices across the whole of England, Wales, Scotland and Northern Ireland.
The NIHR Health Technology Assessment Programme provided funding for the study and the NIHR Clinical Research Network supported study set-up and patient recruitment.
The study protocol was designed by collaborators at the University of Nottingham, Nottingham University Hospitals NHS Trust, University of Southampton, University of Durham and University of Oxford. The study's sponsor is the University of Nottingham. Development of the trial protocol was based on results of a Medical Research Council-funded pilot study involving 2,525 patients.
Professor Chris Hawkey, chief investigator of the study at the University of Nottingham explained: "Aspirin use is widespread, especially among the elderly, and there is increasing evidence that it may slow down certain cancers. However, a side effect of long-term use can include ulcer bleeding.
"We know interventional trials are influential, however if the outcome being investigated occurs infrequently, studies need to be conducted on a large scale.
"By delivering the study in primary care, we were able to develop methods unique to this setting which not only reduced costs substantially, but also made the study an attractive prospect for practices to participate in."
The study aims to find out whether a short course of antibiotics, which removes a particular type of bacteria in the stomach, can reduce the risk of gastric bleeding in aspirin users. If successful, the study will help to reduce NHS costs and improve health outcomes by reducing hospital admissions and increasing patient safety.
The wide availability of GP electronic records in primary care meant that practices were able to issue more than 185,000 invitation letters to potential participants. The MIQUEST search tool was used to identify potential patients to take part in the study, which saved practices time and ensured consistency as a result of each practice using the same search.
In most instances, several hundred potential patients were identified per practice. Use of the highly secure Docmail postal system ensured that invitations were received within 48 hours of patient identification, whilst maintaining record confidentiality.
After invitation letters were issued, more than 30,000 patients were consented to take part in the study across the UK. Much of this was due to the support of the NIHR, who in addition to supporting study set-up, funded approximately 80 clinical research nurses to recruit patients**.
**Sourced from an average number of NIHR clinical research nurses per region at any point during the study.
Jen Dumbleton, Clinical Trials Manager for the study, said: "We didn't incur any nursing recruitment costs, because we were able to use clinical research nurses available through the NIHR.
"We also used a mixed model of recruitment, which gave us added flexibility. For example, in some regions we used practice nurses and in others we used a combination of nurses and healthcare assistants."
Once recruited, patients were tested for the presence of the bacteria, known as H. pylori. Health check data such as blood pressure, Body Mass Index, alcohol consumption and smoking status, was also collected and returned to the GP record. This had the added benefit of saving participating practices the time of collecting this data separately.
The study team despatched treatment to H. pylori positive participants by post and followed up a week later to check compliance and adverse effects, with practices only required to collect serious adverse event data within four weeks of treatment. This again removed the burden of prescription and study follow up from practices.
Every six months, practices also refreshed the MIQUEST search in order to identify changes in the medical records of patients who had consented to the study. For a large scale trial such as this, staff time is usually the biggest cost. The ability to follow up with participants electronically not only kept costs down, but also meant the data was more reliable.
Phil Evans, GP and NIHR National Specialty Lead for Primary Care, said: "The HEAT study is an excellent example of how you can scale up research within a primary care setting.
"We know that studies such as this are often carried out in specialist settings, but to deliver one on such a large scale in primary care is unheard of.
"I hope this achievement will encourage researchers to take advantage of the support provided by the NIHR, as well as highlight the benefits that general practices can reap by taking part in research."
In total, 5,357 patients tested positive for H. pylori. These patients will continue to be followed up, with results of the study expected to be published in 2020.
Don't forget to follow us on Twitter, or connect with us on LinkedIn!