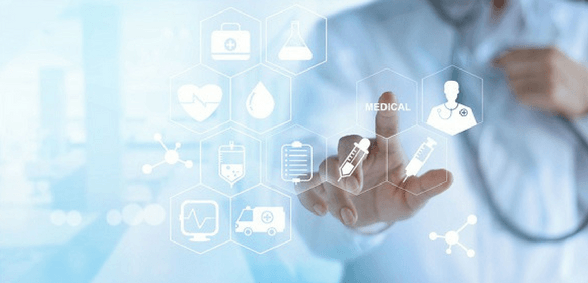 Health secretary Matt Hancock has launched a campaign against out-of-date and obstructive IT in the NHS, endorsing potential cutting-edge technologies to support preventative, predictive and personalised
In the policy paper, published October 17, the health secretary highlighted the potential role that technology can play in the delivery of healthcare within the NHS as he launched a vision in which artificial intelligence (AI) is used to diagnose or gain better insights into treatments and preventions, robotics and voice assistants support rehabilitation, dementia or medication management, and better use of NHS data is used to radically reduce the cost and time needed to generate new evidence on the effectiveness of interventions.
However, he warned that, as things are, 'The gap between where we are and where we want to be is only getting bigger.'
The focus, he says, is getting the basics right; that is the digital architecture of the health and care system, establishing open standards, ensuring secure identity and interoperability, establishing systems that talk to each other and that the right data gets to the right place at the right time.
To realise this vision he said that the NHS needs modular IT systems, where any module can be easily switched out, to create a market where providers compete on – and are rewarded for – quality.
Key to success, he stipulated, is that patients and people who use care services have confidence that their data is held securely and used appropriately.
In the course of the paper he detailed four areas in which action is required;
1. Infrastructure
Put in place the right infrastructure so hospitals, GPs, pharmacies and community and social care providers can join up people's care, and patients don't have to repeat their medical history or care needs to different people, where systems can talk to each other safely and securely, using open standards for data and interoperability. And being open with people about how their information is used so that they have confidence that it is legal, safe and secure.
Buy the best technology – changing the way we buy broadband contracts, laptops and desktops, software licences and developer time so we break the supplier capture. We want staff who work in the health and care system to have technology that helps them to do their jobs effectively, and for NHS and social care organisations – and taxpayers – to get the best value for money.
2. Digital services
Ensure that digital services meet people's needs – understand who the users of a system, website or service are, what they need to do, the problems or frustrations they experience and what they need from a system, website or service to achieve their goal.
3. Innovation
Enable healthtech and innovation so the cutting-edge technology developed by our thriving healthtech economy can be more easily developed and used across the health and social care system, and the NHS and social care can benefit from world-leading innovation and research.
4. Skills and culture
Develop the right skills and capabilities so staff are supported and leaders are able to drive the best outcomes. The right skills are not only digital skills but the leadership and change management skills needed to iterate and improve.
Build an open culture, working with innovators, academics, industry, staff and the people who use health and care services to deliver better outcomes for everyone, welcoming feedback and seeking constant improvement.
Don't forget to follow us on Twitter, or connect with us on LinkedIn!