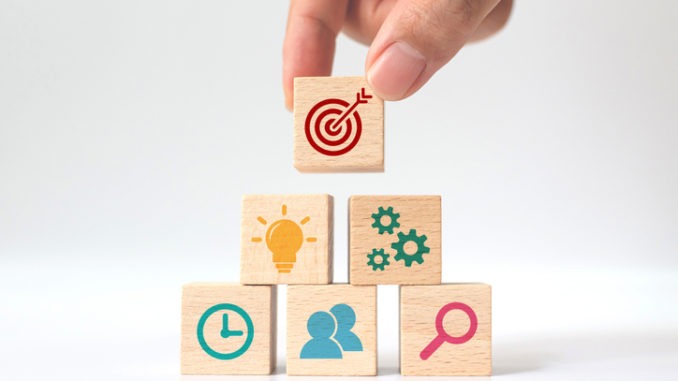 Goal management is often overlooked so now is a good time to take a fresh look at it and what it can do for your team and organisation
CREDIT: This is an edited version of an article that originally appeared on About Leaders
What is goal management?
While many people might think of goal management and automatically imagine a dull list of objectives tied to employee performance, and metrics no-one ever cares about, true goal management is much more than this.
At its heart, goal management is an effective tool that can be used to develop and use your employees' valuable skills, talents and experience, all in the service of assisting your organisation to meet its goals.
Often, employee goals tethered to an annual performance review are set aside, never to be seen again; this 'busy work' is jotted down on paper, or filed away somewhere on a hard drive – it's simply not helpful or insightful. After all, our daily work is a constant stream of changes ranging from organisational manoeuvres, ever-shifting requests and personnel upheaval. It's fairly common in this flow of work to let individual, department and organisational goals fall by the wayside.
Why goal management is your best friend
Research from Bersin and Associates discovered that when an organisation's leaders and managers revisit the organisation's goals, the results are dramatic; organisations that do this outperform others that create annual cascading-goal programs.
Another vital strategy is linking employee performance goals to the company's overall goals, not just the success of managers. In this approach, also called organisation-centric goal alignment, goals are put in place for the entire organisation. Every employee knows these goals and employees are urged to create individual goals that support these overall organisational goals.
During a revamping of its corporate culture, the Zoological Society of San Diego unveiled a new strategic plan. Managers were given the tools they needed to effectively manage employee performance and they challenged their people to each select three individual goals that were directly tied to overall organisational goals. The society achieved organisational goal alignment and made sure that ongoing reviews and feedback became part of their culture.
Be SMART
Most likely, the SMART goals concept needs no introduction. SMART goals are ubiquitous because SMART is a brilliant strategy that engages employees and fosters accountability.
When approaching SMART goals with employees, you can make it easier for them by creating specific fields that can be filled out using your talent management platform or an electronic form. If you can give an example of a SMART goal, all the better.
Keep the conversation going
Goal management thrives in an environment where continuous conversations occur between managers and employees. Managers should be comfortable with feedback, development and coaching so that their employees' performance stays on track – this helps organisational performance stay on track as well.
Which goals matter the most?
We all have to decide what work on our plates gets the most attention but this can be a real struggle, especially when competing priorities vie for our attention.
To conquer this problem, consider having managers assign a weight for the employees' goals on their performance appraisal form. Weighting goals enables employees to clearly see each goal's value to the organisation, and how it fits in with other priorities.
Communication counts
Employees look to their managers to set the stage for their success so it's not surprising that employees often work on the projects that matter to their managers. To make the subtle shift from 'My goal is to please my manager' to 'My goals are aligned with the organisation's goals', stellar communication is the first step.
Managers should work hard on communicating the importance of goals and they should check in, from time to time, with employees about goal progression. Managers must also report on goal status to other colleagues in relevant departments. When managers do this, they show employees the value of goals and keeping everyone in the loop and accountable for performance.