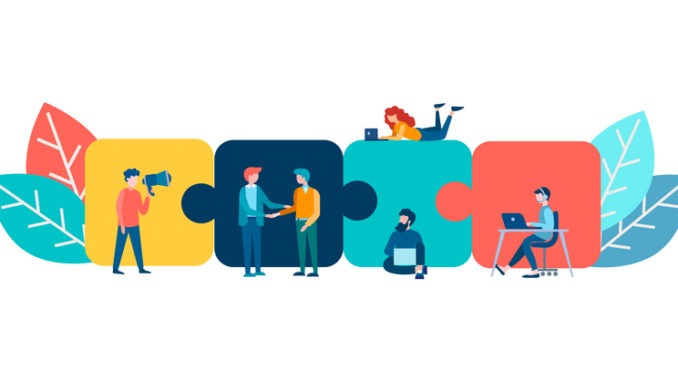 Engaged employees can offer a lot of benefits to your organisation. Here's how to get them there
CREDIT: This is an edited version of an article that originally appeared on Organisation News Daily
What is employee engagement?
An engaged employee is enthusiastic about their work and actively involved in achieving the organisation's goals and interests. They have a positive attitude about the organisation and its values, and are committed to their work.
In contrast, a disengaged employee is someone who may be coasting through their work – doing the bare minimum to get by, or actively disparaging the company to others inside or outside of the organisation.
Why is employee engagement important?
Employee engagement is more than employees just being happy with their work – it's about feeling a sense of pride and connection to the work and the organisation, which often results in higher job satisfaction, productivity and quality of work.
Engaged employees are committed to improving their work and the organisation at large. They are unlikely to leave their position for a higher salary or better title at another organisation, which reduces your employee turnover rate.
"When employees are engaged, they are more productive, loyal and committed which, in turn, improves employee retention, customer satisfaction and an organisation's overall financial health," says Katie Brennan, HR knowledge advisor at the Society for Human Resource Management.
If you're trying to boost employee engagement in your organisation it's important to be patient and not try too hard. Changing how connected your employees feel to the organisation takes time and must be organic, not forced. Here are some ideas for helping your employees feel more engaged with your organisation.
Keep communication open
Peter Schoeman, founder and CEO of The Dog Adventure, says the most effective way to keep your employees focused and motivated is to communicate with them. "Effective communication in the workplace is an essential element of a organisation's progress. Not only does it enhance employee engagement, and the overall effectiveness of a team, it also improves relationships. Communication assures that team members understand what they are working towards, and why."
To improve communication, consider sending out a regular employee engagement survey to gather employee feedback.
Use value-based employee recognition
Most organisations have core values, but they are often neglected and only referenced once during the onboarding process. To help your employees connect with, and embody, your organisation's values, actively reward behaviour that exemplifies them. This shows employees what your values look like in practice, and makes it easy to live them out at work.
Know your employees
This is an easy one – to best value and support your employees, you need to know who they are as people. "The best thing you can do is get to know your people, and have every manager get to know their people," says Jeremy Bedenbaugh, founder and CEO of ReCreate Solutions.
"Get to know their names, their kids' and pets' names, their values, their aspirations, and the things potentially blocking those things. There is no programme, process or substitute for simply building relationships with your people."
Create opportunities for collaboration
Employees who have strong, positive relationships with their co-workers are automatically more engaged with their workplace, since this is a large source of their interpersonal relationships. Create plenty of opportunities for your employees to work together and get to know each other.
Make it clear how your employees contribute
Employees need to know exactly how they fit into the organisation, and how their work contributes to the overall goals. Without providing this insight, you risk your workers feeling as if they are an invisible cog in the wheel, doing work that no-one appreciates. You might want to create a flowchart, or graphic, that shows how each employee's work impacts others and the organisation at large.
Prioritise work-life balance
Again, showing your employees you value them as people is one of the most important ways to boost their engagement. This means encouraging and modelling a strong work-life balance, with plenty of paid time off, reasonable hours and flexibility. Work with your employees on an individual basis to make sure their work-life balance needs are being met.
"Giving your employees a generous amount of paid time off, longer lunch breaks or small gifts to show appreciation can all be helpful," suggests Omid Semino, founder and CEO of Diamond Mansion. "Show them that you appreciate them, and respect their time."
Offer role flexibility
Consider allowing easy lateral mobility within your organisation. This can be especially helpful for younger employees who have not yet worked out their perfect career path. Allowing flexibility, and providing support in career-mapping, can help you retain employees you might have otherwise lost to other organisations.
Be open and transparent
It's much easier for employees to engage with an organisation when they know what's going on, both good and bad. As a leader, you should be as transparent as possible with your employees. This shows that you trust and value them enough to keep them abreast of organisational goings-on.
"We conduct organisation-wide meetings as often as we can to ask for the opinions of the employees before we make the move," Oliver Baker, co-founder of Intelivita, explains. "This allows us not just to see how these plans would affect the employees, but also how they can be improved according to the point of view of our workers."
Provide multiple options for feedback
Many employees may have feedback to share but are uncomfortable doing so in a large group or public setting. Provide opportunities for employees to share their thoughts in different ways, such as an anonymous employee survey, informal chats or sit-down meetings.
Act on feedback
A great way to make employees feel engaged with the workplace is to show them you're listening by acting on their feedback. Be sure to communicate what you're doing in response, and why, as well as when employees can expect to see the results of any changes.