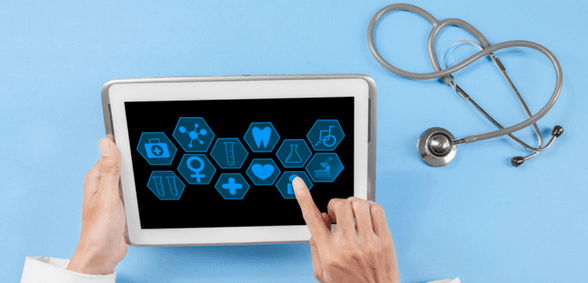 In an article in The Daily Telegraph the secretary of state for health and social care, Matt Hancock, said that every patient should have access to smartphone consultations, saying that it's time to end the 'postcode lottery' in access to care
Since his appointment, the secretary of state has championed technology in healthcare; his most recent comments, featured in The Daily Telegraph, accuse health leaders of getting in the way of the 'healthcare revolution' as reflected in ambitions to expand virtual GP services across the country.
The health secretary defended GP at Hand, saying that he is himself a user of the app, which is offered by the NHS in areas of London.
The Daily Telegraph reports that NHS England has blocked Babylon's proposal to expand to Birmingham because it's unable to ensure that those who sign up for the service still receive invitations for national screening programmes.
The health secretary intends to 'throw is weight' behind the app, urging health officials and GPs to do more to embrace new ways of working.
Responding to the secretary's comments, Dr Richard Vautrey, BMA GP committee chair, said:
"We welcome the secretary of state's commitment to IT, and we recognise the benefits smartphone consultations can offer to many patients in terms of access and convenience. In reality, most GPs would like to offer these appointments to their own patients living in their local area in the same way that they currently do telephone consultations. But funding, resources and training need to be made available to make this happen.
"Providing online consultations is not as simple as picking up the phone and making a video call as you would to a friend or family member. There are issues of ethics, confidentiality and accountability that must seriously be considered before systems are put in place.
"Furthermore, there must be recognition that such a setup will not be suitable for all patients. Often it will be those who are in most need of a GP appointment, like older or vulnerable patients or those with multiple conditions, and who will be least likely to possess the technology and know-how needed to access these services. We support innovation and development, but this cannot come at the cost of basic, face-to-face, holistic care for patients who rely on their GP the most. Patients don't want their local GP practice replaced by a remote anonymous call centre.
"If this government is to truly revolutionise IT provision in the NHS, it must also invest in national infrastructure, such as rural broadband, on which both care providers and patients rely.
"Likewise, over recent years it has become increasingly clear that NHS IT is creaking, with both patients and doctors bearing the brunt in a number of incidents related to failures in records and administrative IT systems. The government should concentrate on getting these basics right, if it really is to transform the whole landscape for the health service and its patients."
Don't forget to follow us on Twitter, or connect with us on LinkedIn!