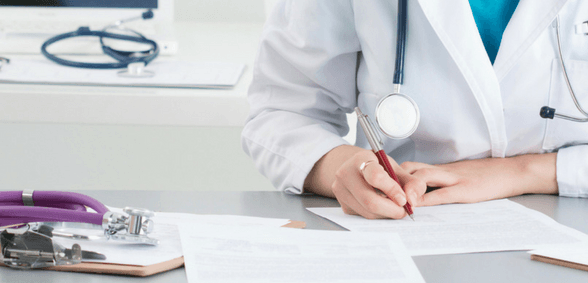 CREDIT: This story was first seen in The Northern Echo
An NHS scheme using private companies to assess GP referrals for specialist treatment is set to be extended by a further 12 months following an assessment which found it has saved almost £1m, The Northern Echo reports.
North Durham Clinical Commission Group (CCG) has extended its pilot project following an assessment of its Rapid Specialist Opinion (RSO) scheme, which sees GP referrals assessed by a private company called About Health before patients are given further appointments for specialist treatment.
It follows a 12-month assessment of the pilot, which is due to end in March, which the CCG says did not identify any significant adverse clinical outcomes, while there had been a 13 per cent reduction in the number of inappropriate referrals.
The NHS commissioning group estimates that the scheme saves £1.27m over 12 months and costs £206,000 to run.
The CCG says: "RSO has been successful in ensuring patients receive care in the most appropriate setting."
During the pilot, About Health, which operates a similar scheme for North Tyneside and also has NHS contracts for dermatology services in Dorset, Lancashire and Hampshire, was given £10 per referral letter for conditions including cardiology, gynaecology, dermatology, gastroenterology and ophthalmology.
Since it started in October 2016, around 10% of referrals have been returned to GPs with advice, while around 11% were referred to a GP with a specialist interest (GPSI).
As a result, there was an overall 5.5% t increase in GPSI activity for the specialities involved, which the CCG says is an indication that patients are receiving treatment in a more appropriate setting.
About Health dealt with about 62% of referrals by GPs in north Durham. Around half of those which weren't dealt with by the company was because patients refused.
Following it's introduction, the scheme faced criticism by Durham MP Roberta Blackman-Woods, who questioned whether the system was necessary and why it had been introduced without public consultation.
The scheme was introduced to reduce the number of unnecessary appointments, which cost £150 each, and is aimed at making sure GP practices follow clinical guidelines.
Last year, an investigation by the British Medical Journal found that two in five CCGs nationally have referral management systems in place, with a third of the schemes provided by private companies.
Don't forget to follow us on Twitter, or connect with us on LinkedIn!