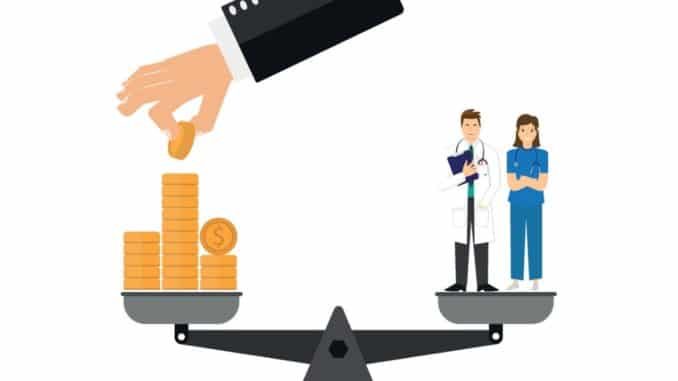 How the lack of standardisation in GP nursing roles has led to pay and contractual inequalities
Nurses play a very important role in general practice, which is demonstrated clearly by the report Falling short: the NHS workforce challenge. Workforce profile and trends of the NHS in England, published in 2019, which said nurses form an important part of the team in most general practices, with most practices having a ratio of around one nurse for every two GPs.
The number of nurses working in general practice has steadily grown since 2015 when there were 15,062 working full time in general practice. The latest NHS Digital data shows just over 24,012 nurses (1.8% more than in June 2019) are now employed in general practice. However, as the number of nurses grows, so too does the disparity in their pay.
This is due to the fact that general practice nursing is funded by GP practices through the core general practice contract, but it is not explicitly mentioned in the contract, and has no collective and direct influence on contract negotiations – nor is it part of the NHS Agenda for Change (AfC) pay scale. Without a standardised framework, or pay body, to set equitable pay, terms and conditions and salary uplifts for nursing in general practice, many believe that this inequality is only going to increase.
However, this is not a recent issue' a lack of standardised pay and terms and conditions has long been a subject nurses in general practice have raised with the Department of Health and Social Care and NHS England. Although this has been an ongoing problem, the recent pandemic has further highlighted these inequalities. Sick pay is not included in all nurses' contracts, despite NHS England sending specific guidance to general practice, stating, "Practices should offer full pay to any staff taking COVID-19 related sick leave, or staff who are shielding because they are at highest clinical risk from COVID-19, or have completed a risk assessment and been advised not to deliver face-to-face care, and are unable to work remotely."
In response to this, many nurses contacted their unions, as they had received statutory sick pay, not full pay, while following government advice and isolating due to coronavirus symptoms. The same scenario also applies to maternity pay. It is not uncommon to hear nurses state that they received statutory maternity pay, while salaried GP colleagues received a wider package of benefits.
Lack of inclusion
COVID-19 has also drawn attention to what some believe to be a lack of inclusion of nurses in important discussions that take place in general practice. Julie Bolus, non-executive director and nurse lead at the National Association of Primary Care, told Nursing Times that nurses were not always being invited into conversations where decisions were being made about new care delivery models, and how best to address the patient backlog caused by the pandemic.
She said it was the responsibility of primary care nurse leaders to ensure the profession had a voice in discussions, going forward, particularly in relation to services like immunisation and chronic disease management which are usually led, and delivered by, nurses. "We are still seeing nurses; I don't think that they are excluded – that would be too harsh a word – but they are not included in some of those meetings.
"What I am hearing…is that a lot of nurses are saying that they are not necessarily even being included in some of the decision-making within their [primary care network] about the model that would work best in doing the catch-up programme. It's become quite medically dominated."
Many worry that if these inequalities and divisions continue to be allowed to grow, more nurses will leave, and fewer people will want to enter the profession, leading to a shortage in a time when general practice staff are needed most. Therefore, there is now a pressing need for the government to ensure sustainable funding is available to increase general practice nurse pay. As well as this, it is important that they change the terms and conditions of the next general practice contract so that it explicitly includes nursing, in influence, leadership and conditions within its framework.