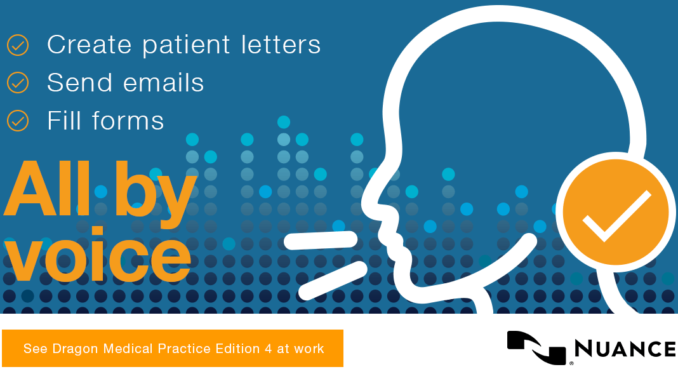 Higher patient demand, more complex needs, greater administrative burden, increased workload, decreasing resources, less time for yourself and your practice team; something needs to change. Speech recognition specialist Nuance has launched AI-powered Dragon Medical Practice Edition 4 – giving general practice an opportunity to take back control
Workload in general practice is a growing concern; a survey conducted in January this year found that, on average, GPs have 41.5 patients a day – this in comparison to the 25 recommended as safe by European GPs. According to the RCGP, workload has risen at least 16% over the last seven years.
Responding to this GP workload survey Professor Helen Stokes-Lampard, chair of the RCGP, said that it's not only the volume of consultations that is overwhelming, but the increasing complexity of patient conditions – 'many of which require much longer than the standard 10-minute consultation'. In addition, she highlighted other urgent duties that are adding to the mounting pressure on general practice – such as prescription reviews, hospital letters, ensuring records are up-to-date, and so on.
Where can general practice make efficiencies, and how can time be freed up for where it is most needed –patient care?
Get ahead. Get AI
Ninety per cent of practice managers say that patient documentation is a burden and a third of GP practices want better technology to help improve this situation. Technology has, indeed, transformed healthcare and now artificial intelligence (AI) is set to take it one step further. Dragon Medical Practice Edition 4, by Nuance, is a clinical speech recognition tool specifically designed for GP practices and clinics. Bringing cutting-edge, AI–powered technology into the heart of the GP surgery transforms documentation processes by enabling clinicians to – quickly and easily – create high-quality, clinical documentation at the point-of-care.
AI-powered clinical speech recognition technology supports improved practice processes; by accurately and efficiently capturing the patient story at the point-of-care. By easing the administrative burden of clinical documentation, clinical speech recognition technology can help to achieve better outcomes and deliver a more consistent experience for patients.
Improved documentation efficiency means less time note-taking and more time interacting with patients, while improved records lead to better-informed care teams and practice staff, decreased turnaround time and increased cost-savings.
It is an accepted fact that GP provision is a seriously understaffed sector; NHS England's GP Forward View promises £2.4bn extra a year for general practice, 5,000 more GPs and 5,000 more members of the practice team by 2020. This AI-powered personal assistant from Nuance clearly offers a significant contribution to solving this problem – boosting productivity and improving patient care by freeing-up GP and practice staff time.
Take back control
Dragon Medical Practice Edition 4, the latest version of Nuance's industry-leading clinical speech recognition solution for clinics and surgeries, brings the power of artificial intelligence to hard-pressed GPs. Specifically designed to enhance clinician productivity, Dragon Medical Practice Edition 4 helps you to keep pace with patient workloads and better manage your practice by:
boosting documentation efficiency, freeing-up time to spend with patients
improving documentation quality
speeding-up turnaround time.
Experience the difference it can make; request a free demo. 
About Nuance
Nuance
provides intelligent systems that support a more natural and insightful approach to clinical documentation, freeing up clinicians to spend more time caring for patients. Nuance's healthcare solutions capture, improve and communicate more than 300 million patient stories each year, helping more than 500,000 clinicians in 10,000 global healthcare organisations to drive meaningful clinical and financial outcomes. Nuance's clinical speech recognition, medical transcription, CDI, coding, quality and medical imaging solutions provide a more complete and accurate view of patient care.
Don't forget to follow us on Twitter, or connect with us on LinkedIn!