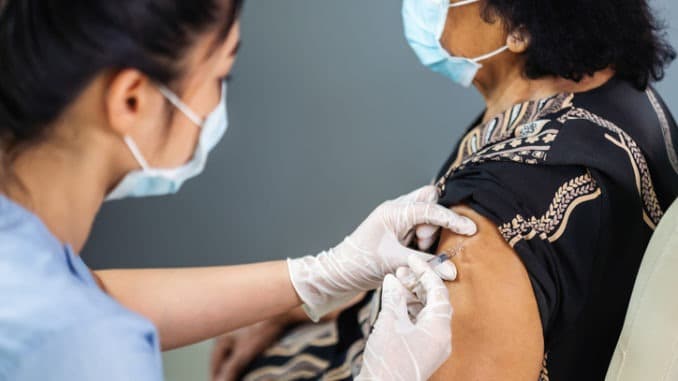 As reported by BBC news, England is giving out its first doses of the Moderna jab, the third COVID-19 vaccine in the nation's rollout
It will be available at 21 sites, included the Madejski Stadium in Reading and the Sheffield Arena. Along with the Pfizer jab, it offers an alternative to the Oxford-AstraZeneca vaccine for under-30s, after concerns about a possible link to very rare blood clots. Wales and Scotland began using the Moderna vaccine last week.
Prof Stephen Powis, medical director of NHS England, said having "a third jab in our armoury" marked another "milestone" in the vaccine programme. He said more sites would offer the Moderna vaccine as further supplies arrive. And he urged people to come forward for vaccination when they are invited, saying the vaccines were "our hope at the end of a year like no other".
The first person to receive the Moderna vaccine in the UK was 24-year-old unpaid carer Elle Taylor from Carmarthenshire in Wales. She said she was "very excited and happy" that being vaccinated meant she could care for her grandmother "properly and safely".
The Moderna vaccine uses a similar innovative RNA technology to the Pfizer jab, but it is stored at temperatures of -20C, like a normal freezer, compared to -70C for the Pfizer vaccine. It can also be stored for 30 days at normal fridge temperatures. The NHS said the Moderna and Pfizer jabs would be used for under-30s who were due to receive the AstraZeneca vaccine but whose appointments were rearranged.
Last week, the Joint Committee on Vaccination and Immunisation – which advises the UK government on vaccines – recommended that under-30s be offered an alternative to the AstraZeneca vaccine, out of the "utmost caution" following reports of blood clots in about four in one million cases.
The NHS said the majority of appointments in April were for second doses, but first dose appointments were still available for people in the initial priority groups who have not yet been immunised – including the over-50s, people who are clinically vulnerable or those working in health or social care.
The Moderna vaccine is a two-dose jab given at an interval of between four and 12 weeks. Like Pfizer's, it is an RNA vaccine and works by injecting part of the virus's genetic code into the body, where it enters cells and tells them to create antigens. These antigens are recognised by the immune system and prepare it to fight coronavirus.
No actual virus is needed to create an mRNA vaccine, meaning the rate at which it can be produced is accelerated. It also only requires temperatures of around -20C for shipping – similar to a normal freezer.