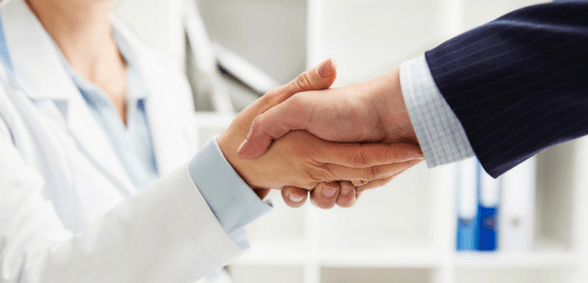 CREDIT: This story was first seen in the Gazette
Abbey-Dale Medical Centre, on Common Edge Road, was officially reopened by one of its longest standing patients, retired Blackpool GP Dr George Dale, the Gazette reports.
The work at the surgery, which started in June 2016, means it will now be able to help train new doctors – as well as cope with increased demand as more people move into the area.
Senior partner at Abbey-Dale Dr John Poyner said: "The new centre is providing better, upgraded clinical facilities to provide excellent care for our patients.
"It meets the latest Care Quality Commission requirements and it has better access for the disabled."
He said the surgery now had the capacity to take on more patients as several nearby developments – including the work to build more than 400 homes off Progress Way –bring more people to Marton.
Practice manager Janine Deakin inside the building Dr Poyner added: "We are also planning, because we have got more rooms, to start to train medical students."
He said he had been approached by UCLan about linking up with their medical programme. Building work at the medical centre went on for months, finishing in March, but the surgery remained open to patients throughout. Abbey-Dale took over the Vicarage Lane Surgery in 2014 before it was closed in January this year and its patients transferred to the Common Edge Road site.
Familiar face Dr George Dale, who lent his name to the Abbey-Dale Medical Centre, on Common Edge Road, returned to relaunch the facility he opened in 1994. He is the father-in-law of Dr Ghulam Abbas, who set the surgery up from scratch in 1985, with no registered patients. Dr Dale, 95, who retired as a GP in 1983, is now among thousands of patients on the books at the practice.
He started practising in 1951, working from a surgery on Glastonbury Avenue and later as a clinical assistant in the dermatology department.
Don't forget to follow us on Twitter, or connect with us on LinkedIn!