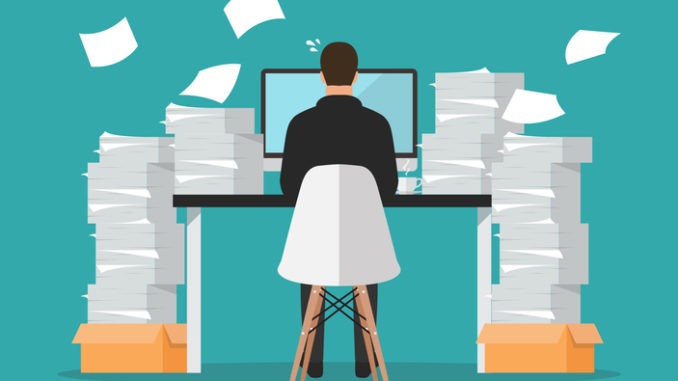 Despite being less visible, there are still ways of spotting overworked remote workers
CREDIT: This is an edited version of an article that originally appeared on Management Today
In the hope of coming out of Britain's worst health and economic crisis in a generation profitable – or, at the very least, still afloat, organisations may be doubling down the pressure on employees.
All the while, employees are also facing increased external pressures like home schooling, worrying about the health of a loved one, or a partner whose volume makes it hard to concentrate.
As a result, leaders must balance being empathetic with maintaining productivity. But how can you tell when you're leaning too heavily on the productivity side of the scale and creating unnecessary stress for your workers? In the office there are clear signs that a team member is overworked; they are increasingly absent, stay behind later than everyone else, and just generally seem frantic.
However, while working from home employees are much less visible, so it's trickier to spot someone cracking under pressure – plus, those who are struggling might not be vocal about it in the current circumstances, due to fears about job security.
We turned to a panel of leaders to ask for advice.
Kash Shaikh, CEO, Virtana
Everyone has different breaking points for different reasons. Servant leaders with emotional intelligence know there is a subtle difference between challenging a team member to perform at their best, and pushing too much to break. Servant leaders practice listening with empathy, and ask probing questions such as 'How are you feeling?' and 'What can I do to help?', which helps them observe if someone is feeling overwhelmed by a project. They use this awareness to encourage people to take a break, deprioritise some aspects of projects or delegate to other team members. People are going through a lot, so we all need to be kind and help others.
Wendy Powell, CEO, Mutu System
It's now more important than ever that leaders find a balance between expectation and empathy, and have an understanding that there are more work-life pressures than before.
The key signs of an overworked workforce are notable irritability during communications, a reduction in creative output and a reduction in interaction – like calling fewer strategy meetings and catch-ups. If an individual feels overwhelmed by keeping up to speed with what's currently expected of them, it is highly unlikely they will suggest new, possibly great, initiatives which require additional inputs. The result is the potential loss of any form of creativity and a slow decline or plateau. Empowering teams with flexibility and support is key to easing this pressure and increasing energy levels.
Sabby Gill, CEO, Thomas International
By the time it becomes obvious that a team is under too much pressure it's often too late to pull them back from the edge. Being away from the office, and unable to physically monitor workloads, stresses and even conflicts within the team is exacerbating the challenge of picking up on when cracks are starting to appear.
Insights from psychometric assessments can help managers better understand their team's behaviour patterns, and identify markers that they are under too much pressure. Armed with this data-driven awareness, managers can put in place safeguards at various stages, when certain behaviours are exhibited, to prevent teams from becoming overwhelmed. Understanding what motivates and engages individual employees will position leaders effectively to know how much pressure is too much, and how to build a unique solution for support.
Stuart Lang, founder and creative director, We Launch
Given that the video call is the channel of choice for team catch ups and briefings these days, I pay close attention to two things on these calls – body language and the words that are spoken. It's so important to gauge if someone is looking deflated, or overworked, or less than impressed with some client feedback. Each person's sensitivities are unique to them. Some thrive on added pressure and responsibility, whereas others bottle things up, and it can quickly escalate if they're ignored. There's also a marked difference between a creative person sharing ideas that have excited them and one who's just going through the motions, or done something at the last minute.
But it's not just down to the leader – everyone needs to keep an eye out for their colleagues, and make sure that any observations are shared with the right people so that we can all chat everything through at the earliest opportunity.
Sheryl Miller, business consultant and author
It's trickier to detect when you've put too much pressure on the team, especially during these times when many are working autonomously from home. You may notice if you're regularly getting email responses in the early hours of the morning or late at night, and perhaps some of your emails will be completely missed. Likewise, team members who are particularly overwhelmed might be late to Zoom calls more often than usual. If you're attuned to your team you should be able to gauge whether people are floundering under the pressure simply by noticing the responses you receive when you assign another work request.
COVID has highlighted the duty of care employers must have towards their teams; having honest conversations about struggles that might impact performance and health will empower people to put their hands up if they're unable to cope with additional pressure without fear of reprimand or judgement. This also allows you to provide support before problems really do become a bigger issue.