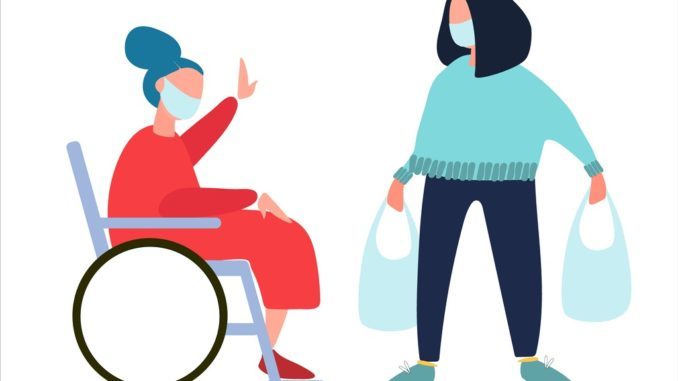 When the UK government declared a national lockdown on 23 March 2020, staff at Elliott Hall Medical Centre in Harrow recognised that many of their vulnerable patients would find it difficult to cope
CREDIT: This is an edited version of an article that originally appeared on The BMJ
In order to help vulnerable patients the practice called on volunteers within its patient community to assist. Here GP partners Chris Jenner and Carly Szasz and Jacqui Martin, chair of the practice patients' association, describe what they did, and how they continue to work with patient volunteers in the current phase of the pandemic.
Setting up a volunteer-to-patient matching project
Elliott Hall Medical Centre serves 11,250 people in Harrow, north west London, including one of the largest populations of older people in the area. The practice had a 'supportive care register' – comprising 3.5% of its total list of patients – who were considered vulnerable and, with the onset of lockdown, our senior management team (lead GPs, nurse practitioner and management support) started to link vulnerable patients with volunteers.
Initially we planned to focus on this group of patients who were most likely to experience difficulties related to lockdown, such as in obtaining medications or food provisions. We sent a text message to all patients aged 18-65 who would not normally be eligible to receive an annual 'flu vaccination, and invited volunteers to help support vulnerable patients in the practice. We chose this cohort as they were not themselves self-isolating, and were likely to be at relatively low risk of complications if they contracted COVID-19.
The response was heartening. We received 268 offers of assistance, including several from medical students, some formerly attached to the practice, and a couple who were also registered patients at the practice. The medical students proved an invaluable resource and enabled us to strengthen our support to patients from vulnerable groups, including those shielding, and all patients over 80. The students phoned 1,099 patients who were self-isolating, or who had self-identified as vulnerable, and asked what help was needed. Two hundred and fifty-two patients requested help, owing to a combination of complex health and social needs.
From the list of 268 patient volunteers who responded to the text message, the clinicians in the senior management team identified 10 potential lead patients. These were individuals known to have the skills and experience to implement the volunteer-to-patient matching project. We called it the 'EHMC Patient Heroes Project'. All 10 lead patients accepted our invitation to take on an active role as 'locality stewards'.
The medical students sent the stewards names of the patients who needed support in their areas and a list of local patient volunteers, all of whom had consented to this sharing of information; the first vulnerable patient was supported within five days of the project's inception.
Within four weeks the medical students had 'phoned all the patients and the locality stewards matched them to volunteers. In all, the 10 locality stewards paired 180 vulnerable patients with a volunteer. Some (n=71) already in receipt of community support accepted the invitation to receive a regular call from the locality steward, but were not formally paired to a volunteer; this proved very helpful when their existing support network broke down during lockdown.
The students took the lead in documenting all the details of the pairing scheme, responding to emails from the locality stewards and patient volunteers, and ensuring good communication via video calls. In addition, they were the first point of contact for patients who 'phoned the practice asking for social support or advice about shielding status. When they had concerns they escalated these to senior practice staff who met up with them briefly most days.
The students also set up a rota to maintain the service, helped in reception when the medical centre was short-staffed, and assisted clinicians to review hundreds of medical records to identify patients who needed to shield. In addition, they called and reassured patients who had been erroneously advised to shield because of inaccuracies in the NHS Digital releases of the shielded patient list.
Development of the volunteer programme and next steps
Volunteers initially received a weekly email called EHMC Heroes Bulletin to keep them updated; this included a question and answer section, and progress on the project, as well as key updates regarding COVID-19.
Four months after starting the EHMC Patient Heroes project was still supporting more than 160 patients. Seven months on, 40 patients still received regular weekly help from patient volunteers, mainly with shopping and also obtaining medication from the pharmacist. The project has given us valuable insights into the unmet needs in our practice community, and has shown us the solidarity and resourcefulness within our community of patients.
Around 80% of our patient volunteers have either continued to work in this capacity, or have offered to do so if the need arises in the future. Some have shown interest in other initiatives being planned by our patients' association—an independent charity—including a new companionship group. Others have offered to help with IT support for otherwise isolated patients. Several of the medical students remained with us from the start of lockdown until the end of August, when their academic courses restarted, and they continue to remain in touch.
Eight months on, our project has fuelled new ideas on how the practice can continue to help vulnerable patients who remain socially isolated and in a future, post-COVID, world. By writing about the project in the patients' association newsletter – which is delivered to all households in the practice – we have generated positive feedback and enthusiasm from a younger group of volunteers.
During the project patient volunteers have also offered a wide range of practical help, including creating volunteer ID badges, providing high-vis jackets for shoppers, and visors, face coverings and 'surgical scrubs' for clinical staff.
Learning how to work as a team
Initially the medical students needed close daily support to answer patient queries and learn how to use the practice IT system. We encouraged them to regularly scrutinise the gov.uk government websites, and provide clinical colleagues with updates. The students attended the practice's daily clinical meeting to share their experiences, ask questions and develop a wider understanding of the broader clinical impact of the pandemic. All students were offered a temporary contract, including a confidentiality clause.
Some of our patient volunteers had previous experience of working in a supportive capacity in the public sector, and had existing Disclosure and Barring Service checks. These individuals were paired with the most vulnerable patients. The others were encouraged to register with the GoodSam app's NHS Volunteers Responders scheme (https://www.goodsamapp.org/NHS) – the national programme which has allowed volunteers to help those self-isolating because of COVID-19.
Locality stewards initially called their patients on a weekly basis, and each volunteer was encouraged to log each patient contact. Any concerns were escalated via a closed WhatsApp group shared by the locality stewards, medical students and the practice GP leads and excluded any patient-identifiable information. Social distancing and other guidance was followed at all times.
At the time of writing we are in a second period of lockdown, with continued uncertainty about the trajectory of the pandemic. Our plan is to continue helping those still in need. Many of our initial cohort of vulnerable patients have made their own arrangements, and some have re-escalated back to their initial volunteer. We have identified only a couple of new patients who became aware of our project through our practice newsletter and fell outside our initial target population.