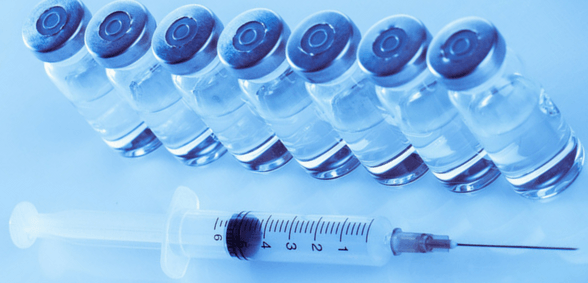 As reported by the Express and Star, all deliveries of the flu jab have now been delivered across the UK and are available to those who need it
All orders of the new and improved flu jab have been distributed across the country, NHS England has said, leading health officials to call on the elderly to ensure they receive their vaccinations.
Fears over a shortage of the vaccine have been rife, due to the staggered deliveries of the vaccine.
Many were concerned about this phased approach, and a survey of 650 GPs by Pulse found that 68.5% of practices suffered a shortage.
However, Seqirus – the distributor of the vaccine – has now dispatched the final supplies for England.
Those aged over 65 are being encouraged more than ever to get their jab in what has been dubbed the NHS's "biggest ever flu vaccination programme".
NHS England said that 8.5 million people will be able to receive the vaccine, free of charge ahead of winter.
Professor Jane Cummings, chief nursing officer for England, said: "This is the biggest flu vaccination programme we have ever undertaken offering more people than ever the greatest opportunity to help protect themselves.
"This year three types of vaccine are being used, including the Adjuvanted trivalent flu vaccine, or aTIV, which should give better protection to people aged 65 and over.
"Deliveries of aITV have been going on since September and with all vaccines now despatched to GPs and pharmacies, we are urging those who have not yet had their flu jab to get it as soon as possible.
"Around 8.5 million doses of vaccine have been ordered, with around one million surplus doses available. The current uptake rate in those aged 65 or over is 45.2% so we are keen to see an increase in that figure.
"As well as older adults, and those with long term conditions, we want other at-risk groups such as pregnant women and young children to be protected as well. It's certainly not too late for people to get vaccinated."
Public Health England's medical director, professor Paul Cosford, added: "Flu can be extremely serious and can kill the most vulnerable. Vaccination is by far the best defence we have.
"Anyone at increased risk from the effects of flu is offered the vaccine for free.
"Aside from having your flu vaccine, the best way to prevent the spread of flu is to practice good hand hygiene.
"Catch coughs and sneezes in a tissue, throw the tissue away and wash your hands."
Professor Dame Sally Davies, England's chief medical officer, said: "Flu can kill and the vaccine is the single best way to protect yourself and those around you.
"More vaccines than ever before are now available and I strongly encourage everyone in a vulnerable group to contact their GP or pharmacy and get the jab."
Don't forget to follow us on Twitter, or connect with us on LinkedIn!