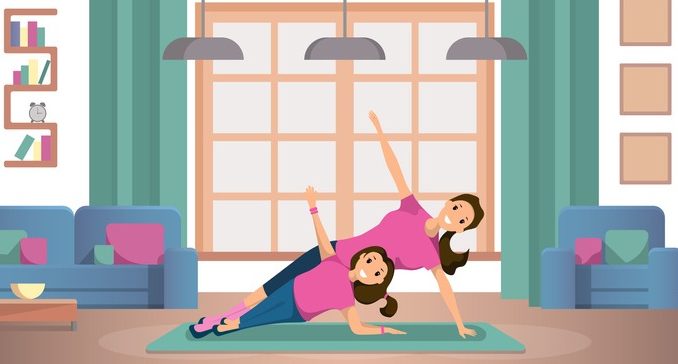 You're working from home and your kids are off school – they're bored, and you're busy. So how do you balance the two?
Working from home when you're not used to it can be challenging enough, but with kids around, who are unable to attend school or any of their activities, and crave constant entertainment? That makes it near impossible. We all remember that absolutely infamous moment when Robert Kelly – since referred to in newspapers as 'BBC dad' – was interviewed live on BBC Newsin 2017, only to have his toddler and baby storm into his home office as he valiantly attempted to continue. More recently, the family appeared on television again to discuss how to deal with cooped-up kids in the midst of a pandemic while attempting to work.
So how can a good balance be struck? We still have to work – and we're doing so under an unprecedented new pressure – but the kids also need care and mental stimulation.
Don't feel guilty
Many are feeling higher-than-average levels of parental guilt, considering the current situation, which doesn't help with the general stress levels that are already being dealt with. It's important to not get caught up in this feeling – COVID-19 shutting down schools, and most of our workplaces, is not something any of us were prepared for, or could have foreseen, and we're all doing the best we can. Also, in terms of the bigger picture, many of us are in the same boat – and many others are much worse off; maybe they have lost their jobs, or don't have any extra support for their children, or their children need extra care. This situation is hard on all of us, and guilt isn't going to help.
Maintain contact with the outside world
We may not be able to socialise right now, but some form of human contact will help stop you getting cabin fever while your whole life is crammed into one house. Set up video chats with colleagues, friends and family throughout the week – some for just you and some including the kids, to retain some semblance of balance.
Create learning opportunities for them
Thankfully, many schools are providing online classes and homework assignments, while well-known figures are creating their own content to allow kids to learn and be entertained – for example, celebrity chef, Joe Wicks, is doing live PE classes on weekday mornings. There are tons of resources online to create assignments, challenges and other activities for the kids to get stuck into, allowing you some extra time to focus on work.
Be flexible – with a little structure
With children around, you're not going to be able to maintain the rigid structure of your usual work day, so prepared to be flexible to suit their needs. However, do still attempt to inject a little structure into their day-to-day lives, as well as your own. Create a calendar of what you need to do and what they can do (give them options), each day, and ensure they know that you have work to do and that it's important to the health of the family that you can't interact with them all of the time.
Reward yourself – and your kids – with bonding activities
Between jobs, try to do something fun with the kids that you'll all enjoy, to take the edge off any tension that's built up throughout the day – or, simply, to reward all of you for coping well with the situation. This can be anything from watching a film together, to playing a game, or creating a new learning opportunity you can all get involved in.
Be realistic
You're not a teacher, nor do you have the time to apply all of your focus to your children when you're attempting to work from home. Set goals for both yourself and the kids, but don't be too ambitious with them – it will only lead to disappointment. And, when you achieve those goals, focus on that sense of achievement, and enjoy it – the little positives in life can be a tremendous highlight right now.
Don't forget to follow us on Twitter, or connect with us on LinkedIn!