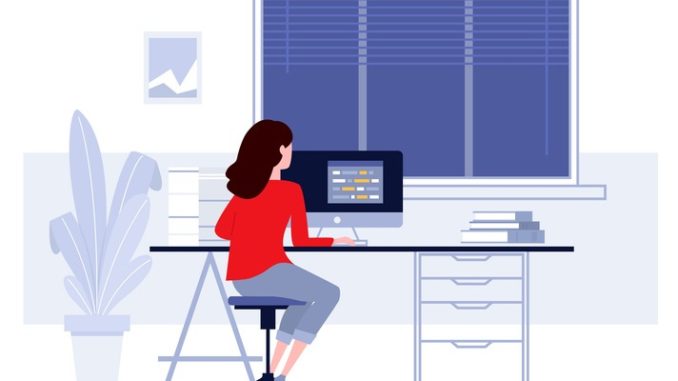 Research suggests that 48% of businesses in the UK are not in any way set-up to be able to accommodate home-working
Top reasons stopping UK employers implementing a remote working policy include:
60% fear employees may abuse the policy.
45% state that it would be difficult to supervise employees.
41% claim remote working makes it difficult to track staff performance and productivity.
The findings come from a recent whitepaper from global recruiter Robert Walters – ASmart Workplace for the Workforce of the Future are intereststing on this subject. Whilst flexi-hours (56%) and remote-working capabilities (25%) are some of the perks most valued by UK employees, it appears that these benefits are, typically, reserved for those in senior positions – with 65% at senior management/board level being able to benefit from flexible working arrangements, compared with just 34% of junior staff.
"Advances in technology have been changing the way companies and employees work for some years now," says Chris Hickey, UK CEO at Robert Walters. "With teams more dispersed, and covering more time zones, working with others via 'phone, virtual meetings and video is slowly becoming the norm. The business case for smart working is clear; adopting a digital workplace helps to streamline operations, enhance speed of communication and drastically improve access to information in a much more effective way.
"Flexible working arrangements are no longer considered just a perk for employees; they are a crucial business strategy to help encourage workforce diversity, attract talent and increase employee satisfaction and productivity. What COVID-19 has highlighted to many UK companies is that, despite companies having 'all of the gear,' we are, essentially, a while away from being able to 'push the button' on remote working.
"Work needs to be done to build trust amongst employers and employees, as well as ironing out clear working practices and guidelines for those working remotely. As more millennials and gen Z professionals enter our workforce, we can expect the pressure to mount for companies to increase their flexible working practices in order to be able to accommodate a generation who are more in tune with their wellbeing and health."
Top reasons employers adopt smart-working practices:
72% – to improve workflow and overall staff productivity.
58% – to strengthen collaboration between staff and improve communication.
54% – digital transformation is a global trend.
22% – to track results and streamline decision-making.
17% – to attract and retain talent.
How professionals feel about smart working:
85% – productivity is enhanced.
80% – feel motivated to work for a tech-savvy company.
78% – co-ordination between departments is enhanced.
42% – work-life balance is hindered.
22% – fear workplace technologies will replace jobs.
11% – difficult to learn and apply new technologies.
The Robert Walters report identifies three key facets that make up a truly smart workplace; digital infrastructure, flexible working policies, and workspace design.
Digital infrastructure
In the white-collar, professional industry, over 80% of a person's role will be conducted via digital means – be it over email, 'phone or online. "Digital infrastructure encompasses all the technologies – platforms, systems and software – people use in order to be productive in today's workplace," says Chris Hickey. "It gives employees the tools they need to improve their communication, collaboration and connections with each other, and is the bedrock of smart working.
"If a company doesn't adopt the right digital tools and processes then smart or remote working is not only hindered, but also unable to be adopted in some instances. What our research highlights is that, beyond a mobile device such as a laptop, the adoption of other technologies drops significantly."
Flexible working
Flexi-hours is the top-rated work perk for British employees, with over half of employees rating this as their most valued workplace benefit. If applied effectively, workplace flexibility puts freedom and autonomy in the hands of the employees, allowing them to determine their work schedule among other priorities. Research highlights that flexi-hours generate high satisfaction, and allows employees to be more focused, dedicated and productive.
How flexible working policies impact professionals:
83% – higher motivation.
80% – better work-life balance.
70% – more focused and productive.
69% – higher quality work.
35% – fewer opportunities to communicate with colleagues.
30% – creates inequality as it does not benefit all staff.
27% – encroaches on personal life.
Chris shares his top tips for employers to help overcome concerns around flexible-working arrangements.
Changing from behaviour-based to outcome-based assessment – on a day-to-day basis, managing smart working requires a move from behaviour-based monitoring to an outcome-based mindset. Instead of solely assessing performance according to what an employee is seen to be doing, managers should take their output, or other deliverables, into account and establish an environment of mutual trust.
Devising innovative alternatives to face-to-face communication – flexible working can create communication challenges, as employees may feel less connection with each other; this can lead to a lower sense of belonging. Apart from specifying a set time of the week when the team can get together, we also advise managers to use alternative tools – such as instant messaging and virtual meetings – to foster communication.
Creating an open culture of flexibility – companies should also create a culture where employees do not feel they will be disadvantaged by flexible working arrangements – for example, some new joiners may struggle to learn if their manager or team members are not around. Managers are strongly recommended to discuss flexible working arrangements openly with all team members to ensure that everyone is treated equally.
Beware of 'burn-out' – with the use of mobile devices, the line between work and private life is blurring. Managers are advised to conduct reviews to ensure remote working employees are not working excessively as this can lead to high stress level and 'burn-out'. Signs to look out for are a reduction in productivity/output, uncharacteristic detachment and increased cynicism or complaining.
As the coronavirus forces a vast number of people in the UK into home-working, it is sure to change the way a lot of us work in the future too.
Don't forget to follow us on Twitter, or connect with us on LinkedIn!