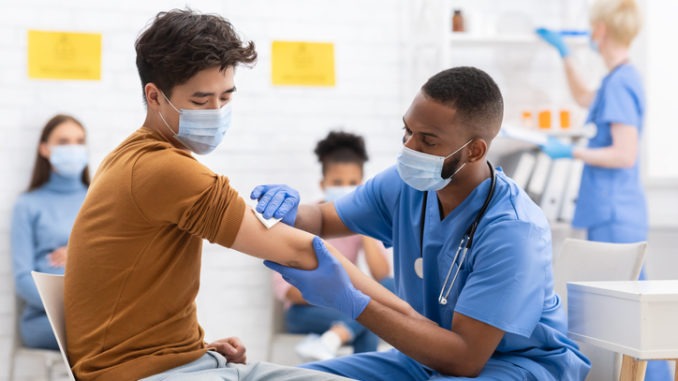 As reported by BBC News, as winter approaches, NHS bosses are urging any of the 4.5m people in England who haven't had a first vaccine dose to come forward and get one
Since September, half a million adults in England have done so, including 3,000 people aged over 80, they say. Having a jab will protect you and your families at Christmas, said NHS England chief executive Amanda Pritchard. Unvaccinated young people can be at risk – 482 aged 18 to 34 were admitted to hospital with COVID last week.
"These numbers are a timely reminder that it is never too late to get your life-saving COVID-19 vaccination – whether you are 18 or 80 or older, the offer from the NHS is evergreen," Pritchard said.
"With the twin threat of flu and COVID, we face a winter like no other and so it is even more important for people to get their jabs – first vaccine, second dose, booster or influenza."
A walk-in finder on the NHS website allows anyone to enter their postcode and find the nearest centre to get a jab without making an appointment if you are eligible.
If you want to book an appointment and are over the age of 12, you can go through the National Booking Service or call 119 if you need extra help with your booking. People who received their first dose before the end of October will be able to get a second dose before the new year.
Statistics consistently show that the risk of death involving COVID-19 is much greater in people who have not been vaccinated than in those who have had both doses. Nearly 80% of England's over-12s have received both doses – similar to other UK nations. More than 22% of children aged 12 to 15 and 56% of 16 to 17-year-olds have had the recommended one dose.
Nearly seven million booster vaccines – for extending protection against COVID in more vulnerable people – have now been delivered, but up to 30m people in total will eventually be eligible. They include people over 50, healthcare staff and younger adults with some health conditions.
NHS England says more clinics are now delivering vaccines than at any other point in the vaccination programme. This includes pharmacies, GP practices and other community sites. Almost every person registered with an English GP practice lives within 10 miles of a fixed vaccination location, it says.