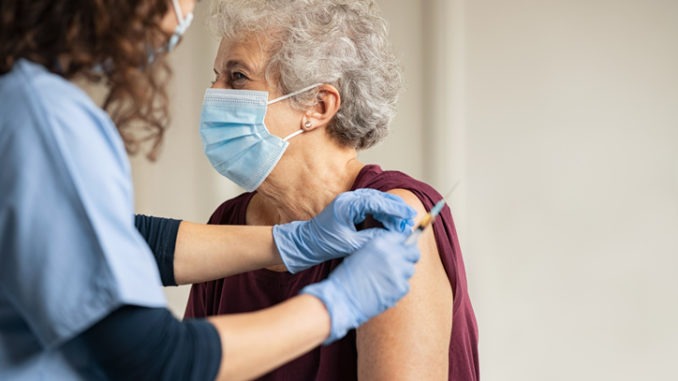 As reported by BBC News, there is a very long way to go before all eligible people have received the COVID booster, the Welsh health minister has said
Eluned Morgan's comments came as around a quarter of those eligible in Wales have had the injection so far. Booster jab rates in Wales are currently the highest in the UK. But there are concerns about delays in some areas, and people have said vaccination centres are difficult to travel to. The Welsh government's target is to vaccinate the majority of the most vulnerable groups before the end of the year.
Eurfron Jones, 93, who is housebound, says she contacted the NHS to find out when she could expect it.
"They've said it would be up to five weeks before I can have one," she said.
"What can you do except stand back and wait for it?"
Health boards have been prioritising health and care workers, people with serious health conditions, and those over 80.
On 2 November 17.6 % of people aged 12 and over in Wales had been given a third vaccine dose compared with 15% in England, 16.6% in Scotland, and 6.7% in Northern Ireland. According to official figures, 45.5% of people aged 70 to 74 have received the additional vaccine. The figures are 57.5% for people aged 75 to 79, and over 61% for people over 80. More than 70% of care home residents have received the booster.
The procedure with the third dose is different from the first and second vaccines. The Pfizer vaccine must be stored in temperature controlled conditions which makes it less suitable for some locations.
Dr Eilir Hughes, from the Llŷn Peninsula, Gwynedd, said: "With the Pfizer we have to make sure people stay 15 minutes after getting the booster, and of course with space in some surgeries that's not always easy.
"But I think we should use every single resource we have to make sure the booster comes faster to our communities."
The concerns were raised in the Senedd on Wednesday. Health minister Eluned Morgan said: "I'm pleased to say that our booster vaccination rates are among the highest in the UK at the moment.
"But of course we have a long way to go again."
Morgan went on to say that health boards should make it easier for people to get to the centres.
"I know in the Hywel Dda area, for example, there is an opportunity for people to call for transport to go to the [vaccination] centres so I think it's worth checking to see if that service is available in the Betsi Cadwaladr [area]."
Concern about delays is not unique to north Wales, with delays in other areas as well.
Betsi Cadwaladr University Health Board says reaching the housebound takes longer because of all the resources needed to carry the Pfizer vaccine.
Gill Harris, executive director of nursing and midwifery, said over 104,000 boosters had been given since mid-September.
"We remain committed to offering the booster to 90% of those eligible by mid-December," she said.
"We ask people to be patient as they will automatically be invited by letter when it is their turn. There is no need to contact the health board or their GP surgery.
"Due to the resources involved, it will take longer for us to get booster injections into the arms of housebound patients than those who can travel to the COVID-19 vaccination centre."
She said vaccination centre staff can give boosters to about 100 people a day, while only about 10 housebound patients can be vaccinated by a team of two nurses in the same time period. The Welsh government said the booster vaccine campaign began as soon as possible after medical advice to do so in mid-September. 
"We are working through the priority groups as quickly and safely as possible," said a spokesman.