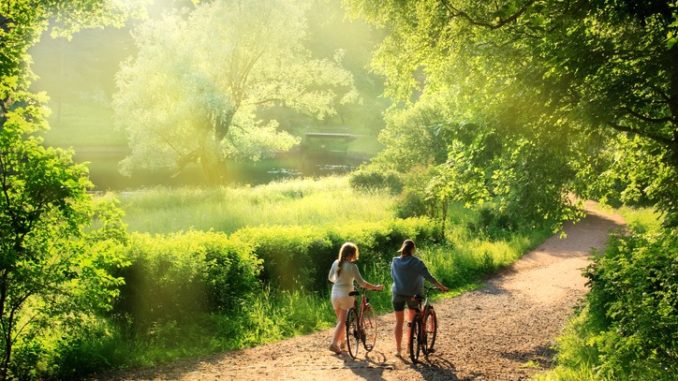 It's widely known that spending time in the great outdoors can have a powerful impact on your mental health, but now new research suggests that spending time in a park during your lunch break can make a world of difference
This is an edited version of an article which originally appeared in the Evening Standard
The study conducted by researchers at the University of Alabama, and published in the International Journal of Environmental Health Research, found spending as little as 20 minutes in the park can leave you feeling more positive.
The study involved 94 adult participants who visited one of three parks situated in the outskirts of Birmingham, Alabama, and supported the theory that getting back to nature is something of a miracle worker for the brain.
Each visitor was asked to fill out a questionnaire upon entering and leaving the park – with results showing that wellbeing scores rose in at least 60% of cases.
Analysis also showed that 20.5 minutes was the optimum amount of park time needed to improve participants' life satisfaction scores.
Hon Yuen, the study's co-author said: "Overall, we found park visitors reported an improvement in emotional wellbeing after the park visit. However, we did not find levels of physical activity are related to improved emotional wellbeing. Instead, we found time spent in the park is related to improved emotional wellbeing."
However, it could be worth including exercise in your park venture as a separate study by researchers at the University of Glasgow found that regular outdoor exercise could decrease the risk of suffering from poor mental health by 50%.
Professor Richard Mitchell, of the Centre for Research on Environment, Society and Health at the university, said: "Woodlands and parks seemed to have the greatest effect, so the message to doctors, planners and policymakers is that these places need protecting and promoting."
The news comes as medical professionals are increasingly viewing green spaces as a tool for improving both physical and mental health.
Recent months have seen doctors in both the UK and US handing out 'green-prescriptions' suggesting patients visit green gyms and local outdoor spaces, with the NHS even encouraging mindfulness as a means of improving mental wellbeing.
Don't forget to follow us on Twitter, or connect with us on LinkedIn!