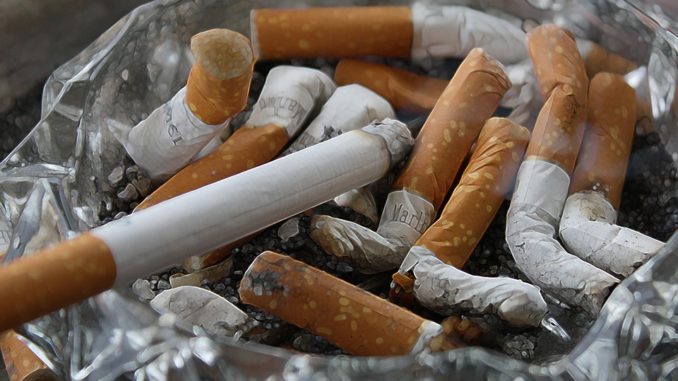 Could cigarettes make a come-back amid vaping scare?
This is an edited version of an article first published by Bloomberg Quint.
in October, a Twitter user known as Beans After Dark tweeted a picture of a box of what he called 'all-natural Juuls,' touting how they were 'made out of paper and filled with leaves.' 'Addicted to the juul?' the tweet asked, alluding to the popular vaping device from Juul Labs Inc. 'Well now there's a solution. The new, healthier smoking alternative.' The punchline: The picture was of a pack of Marlboro cigarettes.
The darkly comedic post underlines a fear of many public health officials and e-cigarette advocates: a return to cigarettes. Through mid-October, a mysterious lung disease outbreak tied to vaping has stricken almost 1,500 people across the U.S. and killed 33, including some teenagers.
The Centers for Disease Control and Prevention has struggled to identify the precise cause of the outbreak and hasn't yet blamed a single product or type of device, though chemicals in vaping liquids from black market sources or used with cannabis-derived THC have drawn scrutiny.
That hasn't stopped regulators from trying to clamp down on use of e-cigarettes, especially flavoured vapes that appeal to younger people. If the crackdown endures, tobacco companies will find themselves in an unusual situation in 2020: while the vaping controversy may cloud the future of different cigarette alternatives that they've spent billions of dollars to develop, it may also mean their staple products—the cigarettes that made them into globe-spanning behemoths but also left them on the hook for hundreds of billions for smoking-related illnesses—stage a bit of a comeback.
"Tobacco companies have been doing this a long time. They don't panic, they play the long game," says Ken Shea, a Bloomberg Intelligence analyst. "If vaping fails, it's intuitive that people come back to cigarettes," Shea says.
Alternatives, however, are still a fraction of the global cigarette market, accounting for only $40.6 billion in retail sales in 2018, compared with $713.7 billion for traditional cigarettes, according to Euromonitor International. But alternatives have been growing much faster. Globally their retail sales grew 35% from 2017 to 2018, compared with only 3.1% for cigarettes.
Don't forget to follow us on Twitter, or connect with us on LinkedIn!