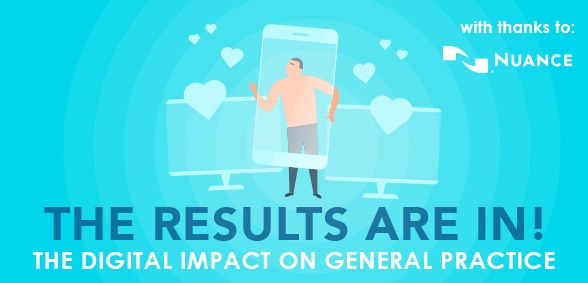 The digital age has arrived – and the health sector is undergoing a transformation driven by the 'digital patient'
Technology is being championed as a solution in a health sector that is overwrought and under pressure. We at Practice Business teamed up with speech recognition specialists Nuance to better understand how this digital health revolution is impacting general practice.
Who is the digital patient: the 'digital patient' is one who appears to be familiar and at ease with digital technology and who has a tendency to interact with your practice online
Administration processes
We were not surprised to learn that nearly all were offering the standard level of digital access for patients – including online appointment booking, repeat prescriptions and access to their patient record.
Respondents confirmed that there is an upside to the digitisation of administrative processes as a result of online patient access to services and information. When asked what impact the digital patient is having on paperwork workload, 48.8% said that it has been reduced. However, 33% said that they had experienced no difference and 18.2% told us that they had experienced an increase in workload.
Care delivery processes
What was interesting to see was the number of practices already offering patients digital care delivery processes such as remote consultations via video conferencing (15.9%), remote patient monitoring and management (21.6%), personal health apps and wearables (13.6%) and online information (75%). This suggests a move towards empowering the patient – supporting continued care outside of the consulting room – and reflects a sector-wide movement towards patient-centred care.
When asked what digital processes they planned to introduce in the coming months these four key tools were, again, the focus with 25% saying that they were looking to introduce remote consultations via video conferencing, 15.9% reporting remote patient monitoring and management, 17% planning to use personal health apps and wearables and 29.5% intending to add online information for patients. A surprising 40.9% said they had no plans to introduce digital processes
Impacts on the practice team
We asked, 'How do you think that digital transformation impacts the general workload of a practice?' Interestingly, 37.5% of respondents agreed that it has had a positive effect on the general workload – telling us that it has lessened their workload. However, 36.4% said that it has increased their workload. The remainder – 26.1% – reported that they had seen no difference.
Personalisation (37.5%), convenience (84.1%), choice (56.8%) and control (51.1%) were revealed to be the key benefits of digital technology in the practice – for practice staff and patients alike.
When asked which aspects of practice now need to be considered more carefully data protection and privacy and medico-legal aspects of the patient record topped the list.
The future
Our survey showed us that technology is part of the plan for most practices. Point of care testing, biometrics to correctly identify patients and ensure data privacy and protection, chatbots/digital assistants as well as AI to support GPs and other healthcare providers were some of the great technologies which respondents said that they could imagine introducing over the coming years.
What of our digital patient?
So, what of our digital patient for whom healthcare is evolving and adapting to cater for? Of our respondents, 44.3% said that the emergence of the digital patient will result in faster more efficient services, 26.1% said that they expect to see fewer missed appointments and 11.4% believe that the digital patient will mean less paperwork.
Ultimately, the possibilities of digital technology are limitless. Healthcare is undergoing a digital transformation that is being viewed as a solution in a healthcare system that is overwrought and which needs a new answer that can cater to the needs of a growing population with more complex healthcare needs many of whom, increasingly, want everything in the palm of their hand – including their healthcare.
You can read a full summary of our findings here.
Learn more about our survey partners, speech recognition specialists Nuance, here
Don't forget to follow us on Twitter, or connect with us on LinkedIn!