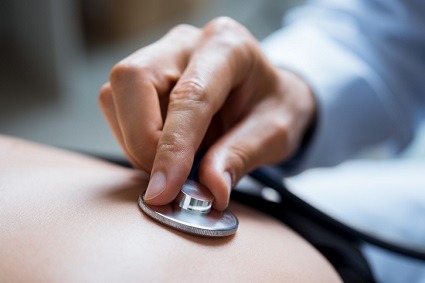 A new report has found that patients with chronic obstructive pulmonary disease sometimes feel they would receive better care if they had a different disease
A research-focused healthcare group, Chiesi, has released new UK survey data revealing that the more severe patients' chronic obstructive pulmonary disease (COPD) is, the more likely they are to miss reviews due to illness than those in better health.
Furthermore, when they are able to attend, they are more likely to feel 'rushed' and 'lectured', desiring more consultation time.
This is despite the fact that motivation to attend reviews rises with disease severity. More than half (56%) of those unable to attend reviews due to illness also had previously experienced an exacerbation – suggesting that the system may be failing those in most critical need.
Furthermore, while six in 10 patients with COPD reported being satisfied with their reviews, nearly one in three believe that they would receive more attention or better care if they had a different disease, such as cancer, diabetes or heart disease.
Dr Richard Russell, COPD researcher for the University of Oxford and consultant chest physician southern health NHS FT, said: "This survey is an important look into the lives of patients with COPD. It is shocking to see that patients consider that they would receive more or better attention if they had other diagnoses.
"They are keen to feel better, manage their disease better and know more about their disease. To me, the results are a call to healthcare professionals to take COPD reviews seriously and make it as easy as possible for patients to attend, particularly those with severe disease."
This patient experience survey gathered insights from 500 people from across the UK who have COPD. The survey also showed that, of the 82% who had never missed a COPD review, their main motivating factors are to prevent worsening of their disease (67%), improve quality of life (52%) and to be in control of their condition (50%).
Another key factor confirmed as impacting review attendance is patients' relationships with their healthcare professionals (HCPs). While 63% of patients said that they felt confident their HCP had the appropriate knowledge of their condition, in some cases confessing to disliking the HCP and staff changes were cited as reasons for missing appointments.
Stephen Gaduzo, a GP with a special interest in respiratory and former chair of the Primary Care Respiratory Society, said: "If a review is very one-sided, patients may feel lectured at, or not listened to, discouraging them from attending. But, when carried out well, these check-ups are the ideal opportunity for patients to learn how to improve their disease management, meeting their needs and not just become tick-box exercises.
"I would advise all HCPs to ask their patients to fill out a COPD Patient Passport, available on the British Lung Foundation website, and bring it to their annual review, to ensure that their consultation is of best possible quality."
Tom Delahoyde, MD of Chiesi UK, added: "At Chiesi, we are committed to supporting patients with COPD every step of the way, and we carried out this survey to gain further insights into how we can better achieve this.
"It's great to hear that so many patients are committed to getting the best out of their annual review, but clearly more work still needs to be done to ensure that this is felt by patients across the board, especially for those who need it most."
Don't forget to follow us on Twitter, or connect with us on LinkedIn!