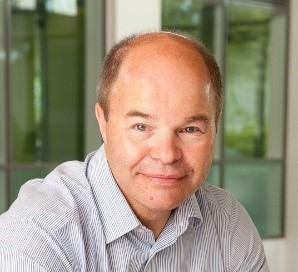 Nick Sharples, PCC associate, discusses how practices can structure a PCN social prescribing service
With the increased flexibility offered by the GP Contract Update of February 2020, primary care networks (PCNs) can now recruit two additional roles to the social prescribing team – a care coordinator and a health and wellbeing coach, in addition to another nine roles in 2021. It also allows PCNs to determine for themselves how many of each of the available allied health professional (AHP) roles they recruit to meet the needs of their patient community, within the overall financial ceiling of the Additional Roles Reimbursement Scheme (ARRS). With a 'use it or lose it' approach to funding, there has never been a better time to plan ahead to ensure that the social prescribing team staffing, and structure meets the needs of the PCN going forward.
The structural diagram below suggests one way in which the social prescribing team might be structured to support the PCN and shows the relationships between the social prescribing team and other stakeholders within the wider PCN community.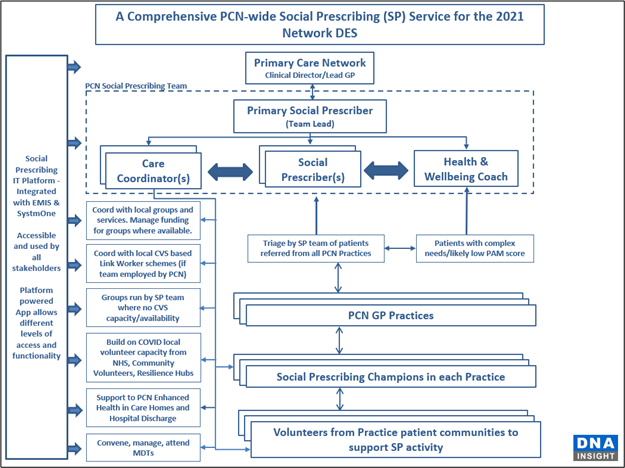 Changing reporting responsibilities
Where solo social prescribers are employed by the PCN, the default deployment model, whilst not universal, is one in which the social prescribing link worker (SPLW) divides their time amongst the PCN's practices, in rough proportion to the list size of the practice. This takes no account of the relative needs of the patient community in each practice and is inefficient in terms of travel time and administrative load. With a minimum team of three SPLWs, this model becomes logistically complex and even more inefficient.
By working for the PCN as an entity, using a hub model, the social prescribing team can take referrals from each practice, triage the referrals for PCN priority/urgency and then allocate each patient to the appropriate member of the team.
Recruitment of new roles
The directed enhanced service (DES) states that the care coordinator is a band 4, whilst the social prescribing link worker and health coach are both band 5. This presents something of a dilemma. Do you avoid recruiting a care coordinator all together and avoid the potential conflict when the whole team, with minor variations, are doing essentially the same job? Or do you seize the opportunity to create a sensible organisational structure within the social prescribing team – one that allows for different roles and responsibilities, succession planning and the potential for promotion for care coordinators into one of the other roles?
The key to maintaining harmony within a team where people are on different salaries, yet carrying out broadly similar roles, is to have clearly defined roles and responsibilities, aligned to the salary level for that role. The DES has tried to provide detailed job descriptions for each role, but they are very similar, and it is difficult to identify any major differences that would justify different salaries.
So here are our thoughts on how you might structure a social prescribing team for 2021 and beyond, looking at each role in turn and ending with an 'at a glance' table to show the differences.
The social prescribing link worker (SPLW)
The SPLW is likely to be the longest serving member of the team, potentially with up to 10 months in post if their PCN moved quickly in 2019. As such, they will be experienced in the ways of the PCN, will have built the key relationships needed and will almost certainly have a referral, evaluation, and management system up and running. By default, therefore, they are likely to become the lead within the team, helping new members with induction and familiarisation. They will already have built up a sizeable case load, so it makes sense that they continue with that and become the main link worker in the PCN with the largest caseload. They will also use their experience to allocate referred patients to members of the team based on the mix of skillsets available.
The health and wellbeing coach
Those recruited into the health coach role may or may not already be qualified as health coaches. As there are probably not around 1,200 health coaches around the country waiting to be recruited, they may well be recruited from complementary roles or express a desire to move into that role.
Regardless of coaching experience, the new health coach recruit should undertake the foundation training and induction for a social prescriber – getting them up to a baseline knowledge of how primary care works and how the social prescribing team operates within the PCN.
Then, at some later stage, the non-accredited health coach can undertake one of the two or four day health coach online courses available and accredited by the Personalised Care Institute. The choice of length of the course will depend on the percentage of their time they will spend on coaching. This will equip them to start using health coaching with the more challenging cases referred to the SP team.
Health coaches will focus their skills on helping those patients with a number of long-term conditions that would benefit from supported self-management, or on those with complex conditions.
There will be a need therefore for initial triaging of referred patients by the team lead to assess the patient's conditions, prior to allocation to one of the social prescribing team. It is crucial to take a view at the triage stage, as changing responsibility for a patient from social prescriber to health coach after the patient's initial assessment is not best practice.
The care coordinator
Given that the care coordinator is a band 4, whilst the rest of the team are band 5, it is essential to identify a distinct role from the rest of the team to avoid comparison of what may be perceived as very similar roles and responsibilities.
This can be achieved by focusing on the coordinator role of the job title. The care coordinator should still be trained as a social prescriber and will take on a caseload (albeit a smaller one). They will however become the default stand-in to pick up new referrals for all colleagues when on holiday and will become the main coordinator and point of contact with the voluntary and community organisations and groups to which the team refers patients. The coordination part of the role can also include:
Coordination across the PCN, team cohesion and support.
Team lead for evaluation efficiency and reporting.
Management of the social prescribing IT platform and integration/alignment with practice's EMIS/SystmOne.
Team lead in building out and supporting voluntary groups/organisations.
Team lead in building a social prescribing champion and volunteer structure within PCN practices, including working with those who had volunteered during COVID and who still wish to volunteer their time.
Liaison with the patient participation group.
Team lead in developing content and maintaining the accuracy of the directory of services.
Setting up and managing a group for patients where the demand is not met by community or voluntary sector or local groups (e.g. a walking group or coffee morning for the lonely).
Working with care home residents as part of the PCN's Enhanced Health in Care Homes programme or with those patients needing support following discharge from hospital
Convening, managing or attending a variety of practice, care home or external multi- disciplinary teams (MDTs).
Type of Activity
Roles and Responsibilities
Social Prescribing Link Worker
Health & Wellbeing Coach
Care Coordinator
Prescribing Role
Assessment of referred patients and allocation to team. Takes on caseload comprising bulk of non-complex patients.
Hold a mixed caseload of complex and non-complex cases with priority on complex cases and LTCs.
Holds smaller caseload. Focus on patients likely to require more simple or straightforward signposting to groups. May specialise in working with care home residents or those discharged from hospital. Picks up additional cases when other members of team on holiday/sick.
Coordination Role
Team lead. Point of contact with Clinical Director/Lead GPs Receipt and allocation of referrals to team members.
Take on those who have more complex or a multiplicity of needs or are likely, on assessment of the referral, to have a number of long-term conditions that would benefit from supported self-management. Provide professional support to the team in coaching skills and upskill the team in coaching techniques.
Coordinates team engagement with voluntary groups/service providers. Coordinates team engagement with practices – admin and logistics requirements incl EMIS/SystmOne integration and SP Referral Platform Lead. Coordinates evaluation/reporting to stakeholders. Coordination of and champion for volunteers. Convenes, manages or attends practice, care home or external multi-disciplinary meetings.
Training Requirement
Foundation social prescriber training – online or face to face.
Foundation social prescriber training – online or face to face. PCI accredited health coach course. Duration depending on the amount of time they will be coaching as part of their role.
Foundation social prescriber training – online or face to face.
Nick Sharples is a PCC associate and highly experienced social prescribing lead. He facilitates PCC's SocialPrescriberPlus programme and is passionate about the many benefits that Social Prescribing can bring to patients and to the wider community. Nick also runs training programmes in care navigation and active signposting, digital group consultations and health coaching for social prescribing team members.