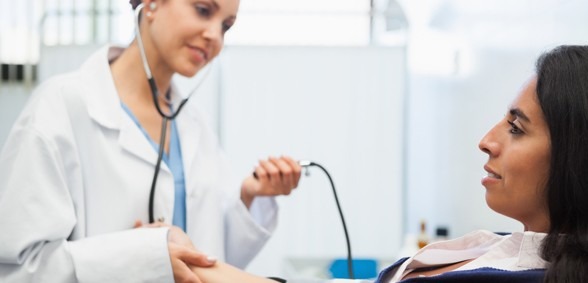 As part of their Quality Improvement (QI) agenda, the RCGP have been focusing on those working in partnership with other healthcare providers to develop larger scale primary care projects. Here they share detailed plans of how the Haxby Group 'super-partnership', which covers both York and Hull, has been specifically designed to meet the modern challenges of public health
Haxby Group is a large 'super-partnership' in primary care providing services to 50,000 patients in the cities of York and Hull. It has 22 partners supporting a large team of over 200 staff and delivers high quality care from 10 sites. There is a significant focus on training and education as it provides placements for GP speciality trainees as well as undergraduate medical, nursing and pharmacy students and, in addition, it has an expanding focus on the provision of apprenticeship schemes. It is an Advanced Training Practice and promotes the concept of 'Interprofessional Learning'.
The importance of working collaboratively
The organisation understands the importance of working collaboratively both within primary care and with other sectors. It has a thriving community pharmacy business and is forming alliances with other practices in both cities. It provides input into a number of organisations across the health sector – Local Medical Committees, Hull York Medical School, Health Education Yorkshire and the Humber and the Royal College of General Practitioners.
The partnership is acutely aware of the challenges facing primary care in relation to particular issues pertaining to workforce and changing patient demographics. It has begun to evolve its own workforce including pharmacists, nurse practitioners and paramedic practitioners as part of its collaborative primary care team. It has active patient participation groups and is part of an integrated care team pilot within the city of York.
Its awareness of the current primary care landscape has resulted in a desire to review the way care is delivered to patients and a readiness to modernise the services it provides to ensure it can survive and thrive within a modern NHS. In order to do this it has invested resources in a prospective project designed to review the way patients access the practice and the way its clinicians operate in order to create a sustainable, responsive primary care service for the future. The PROACTIVE project – Prospective Review Of Patient ACcess, Time Management and Workload to ImproVe Efficiency – has the full support of the organisation.
The project will have three overarching themes – patient care, sustainability and collaboration – which will be visible in all work streams and changes that are developed. As the project develops we will be able to attach achievable outcome measures to each them.
Patient care
Improving access
Aligning pathways
Ensuring we are engaged with our communities – including and involving patients in the future direction of the practice
Focus on patient satisfaction through the development of a responsive clinical offer
Sustainability
Clinical workload – creating a clinical working environment that is manageable and that lends itself to quality patient care whilst ensuring clinicians have time for professional and personal development. Ensuring we protect and optimise primary care for future generations.
Financial – ensuring that resources are used effectively and that the financial viability of the practice goes from strength to strength.
Recruitment – Putting ourselves in a position where we can recruit a high quality clinical and non-clinical workforce that delivers excellence. Developing a partnership model that will be attractive to the next generation ensuring the ownership that primary care and our patients deserve.
Staff development – enabling the development of non-clinicians and ensuring we are a 'go to' employer.
Collaboration
Prepare the practice and generate the organisational readiness to collaborate with both primary care colleagues and with other healthcare sectors.
Develop an ethos of collaborative leadership maximising the diversity we have within the organisation.
In order to achieve this the project will progress in a systematic way with clear phases for each work stream.
Phase one
At the outset we must develop a clear understanding of where we are now. This will comprise both qualitative and quantitative analysis. Qualitative analysis will involve discussion with practice teams at all 10 sites to get a feel for the specific requirements of each. There is a developing acceptance that each site is different and that the model of clinical delivery at each site may not be the same. The feeling and opinions of those on the ground will be vital to this understanding.
In addition, the views of patients at each site are key; we have much feedback already. There will be a process of analysis of that feedback to distil key messages. We will also discuss the project with patient participation groups and gather further input/feedback. Where possible, patients will be involved in our project – probably through the PPGs as it progresses.
Quantitative analysis will involve the creation of a Practice Access Dashboard. The content of the dashboard will be developed with an inclusive approach involving the whole team. The aim will be to collect data to demonstrate how we are providing services. An example of dashboard data would be the number of appointments by each group of clinicians per week, the type of consultations eg. acute, chronic disease management, family planning, minor surgery, phlebotomy etc.  In addition, this will look at the throughput of workload outside the consultation – insurance reports, clinical letters, pathology, prescription management, referral management etc.
Maximising opportunity
As we bring different and new types of clinicians into primary care we must understand what our workload looks like and develop an appreciation of how we can safely devolve work to these clinicians whilst evolving the role of the GP. To maximise these opportunities senior clinicians and patients must be involved and must be prepared to go through a cycle of change to achieve progress – our task is to maintain well-governanced and safe systems whilst the change is happening. Other quantitative measures will include repeating time and motion studies for GPs; these delivered significant insight to our working lives and were the catalyst for successful change in the past.
Phase two
At this point there will be agreement at the outset in respect of the detail of any changes to be made. This will be at partnership level. Once agreed change will be implemented in a controlled way and there will be prospective evaluation, again based on both qualitative and quantitative measures – the latter will be agreed at the outset with ongoing monitoring to ensure protection against adverse clinical outcomes.
Phase three
All changes will undergo full evaluation and be subject to partnership level scrutiny. Evaluation will be made against the agreed outcome measures as well as be subject to acceptability in terms of the overarching project themes.
Phase four
All changes achieving success will be fully implemented and monitored through the usual governance processes in place in the practice.
The timescales for the project, by its very nature, will be dynamic; however there is a commitment to complete phase one within 3 months. There will be phase overlap for each work stream that is developed. The project team will deliver updates bimonthly as a minimum but the expectation is that, as data is prepared and proposals emerge, this will be communicated effectively to the partners.
This story originally appeared on the RCGP website. http://www.rcgp.org.uk/
The RCGP is committed to supporting GPs and practice staff with quality improvement (QI) activities. Examples of QI in practice, such as this one, and many more resources to support QI, can be found on the RCGPs new online tool QI Ready (https://qiready.rcgp.org.uk)