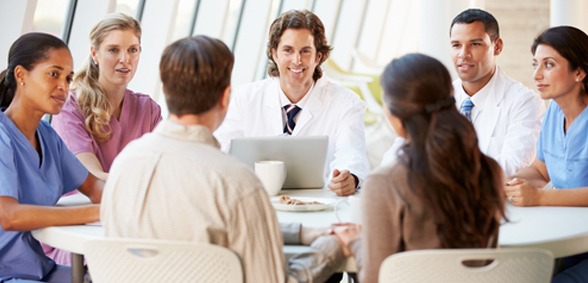 Dr Paul Lambden's articles for Practice Business were a defining feature of the magazine. After an incredible 11 years of writing he has recently taken his leave to concentrate on a well-deserved retirement. In this farewell interview he discusses the many changes that have shaped general practice over the last decade, his joy in writing and passing the baton of scribe on to his daughter
Q. Can you tell us a little bit about how you got started writing for Practice Business?
A. I knew the original commissioning editor – we're talking over a decade ago so do forgive me that I can't remember his name. Anyhow, he asked me to do an article to test the water and from there it took off, eventually taking me to a portfolio of 120 written articles.
Q. Can you remember what your first article was about?
A. The first article, in May 2006, was about diabetes. The opening discussion was about how everyone knew sugar was related to diabetes but a lot of people's knowledge stopped at that point. People were less well-informed than they are now about diabetes so I started with a simple outline of the main clinical points to be considered
Q. How did you typically plan each article?
A. As a GP, and writing elsewhere for people also in management roles, I have a good background in each condition; I then scan recent research articles just in case there's anything new that I need to include. Of course, being limited to 800-900 words does mean that each article is written as an overview rather than as a detailed account of the chosen condition.
The important thing is that it's written to enable readers to understand the subject; the minutia is not critical – it's making sure the basics are explicit and that a practice manager can contribute to a discussion with a patient, when required, and can converse sensibly based on broad principles. I try and always keep each article simple and straightforward so they are easily understood. There's no point in me writing something complex because I would risk losing some of my non-medically qualified audience – which would be pointless.
Q. Which articles drew the most interest/comment from readers?
A. I've had really nice comments throughout my time writing and I've managed to complete 11 years without receiving an adverse comment directed toward me! There have been kind comments, often not about mainstream or better known subjects, but rather conditions like Seasonal Affective Disorder, for example.
Q. How has general practice changed over recent years?
A. General practice is changing massively – almost on a weekly basis currently – certainly, in terms of knowledge, more is expected of GPs and practice staff than ever before. I qualified in the 1970s and at that time medicine was little changed from 100 to 150 years earlier. Doctors still did surgeries and home visits but we didn't have any scans or foetal monitoring; we didn't have that many drugs and ECGs were still relatively new too. General practice was a support service where we relied on what we could see, hear and feel. Investigations were far more rudimentary and, if you think back to Victorian home doctors of the 1830s and 1840s, in many ways they did the same thing. By way of comparison, in 1815 René Laennec invented the stethoscope and it took until 1880 for the next major development in medicine to take place – which was the x-ray.
Around the early 1980s there was an explosion of developments – from equipment to drugs – and now they come tumbling in on a weekly basis. You can look at any journal nowadays and see the developments and it's almost frightening. The result for practice managers and GPs is going to be increased specialisation because no-one will be able to hold all the necessary knowledge. Workloads will rise too – I mean specific workloads in respect of particular areas.
Q. What are your favourite moments from your time writing for Practice Business?
A. Well, for me, I enjoy writing very much indeed so I've enjoyed the whole journey. I've written or co-written nine textbooks over the years in various areas of clinical practice across a number of healthcare professions. I find it a pleasure to write and it helps keep my knowledge up-to-date and enables me to think more about what's involved in the treatment and management of particular medical problems.
Q. Will you be taking a complete break from writing now?
A. We'll find out if you ever ask me if I would like to write a guest article!
Q. Is it nice to continue to have the family name in the Practice Business website pages with your daughter Claire continuing from where you've left off
A. Yes it really is. She has recently joined a practice in Bath and is doing a fine job.
From all at Practice Business, we wish Paul a wonderful retirement and trust he will continue to keep a beady editorial eye on Clare's work!