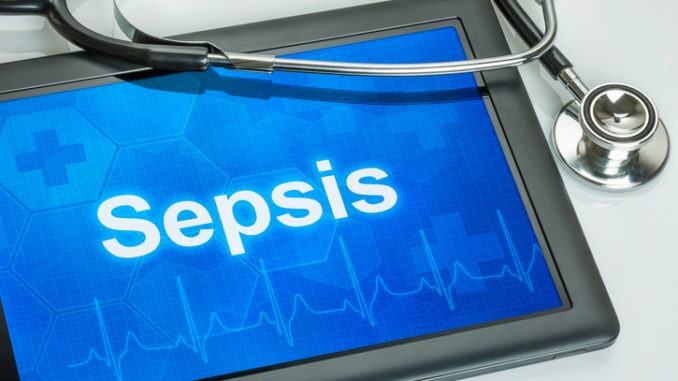 Sepsis is the UK's greatest killer – yet many of us don't know what it is, or how it happens. Practice Business explores what practice managers can do to make sepsis detection a priority in their surgeries
Sepsis is one of the Royal College of General Practitioners' (RCGP) clinical priorities. It is the leading cause of death in the UK and affects the young all the way through to the old. Five people die of sepsis in the UK every hour yet, despite this, most members of the public don't really know what sepsis is, how it happens, or the symptoms it presents with.
So it is vital for NHS employees, from receptionist to clinicians, to be able to spot potentially deteriorating patients in the practice or over the 'phone.
This spotlight on sepsis is designed to highlight the symptoms of sepsis as well as exploring ways practice managers can put processes in place to improve sepsis detection in their surgeries.
What is sepsis?
According to the Mayo Clinic, sepsis is a potentially life-threatening condition caused by the body's response to an infection. During an immune response the body releases chemicals into the blood stream to fight the infection; however, if the body's response to these chemicals is out of balance, it can damage multiple organ systems.
This is known as sepsis. If sepsis progresses to septic shock, blood pressure drops dramatically; this may lead to severe morbidity or death.
What are the symptoms?
The symptoms of sepsis in adults can be remembered by the acronym SEPSIS
S – slurred speech or confusion
E – extreme shivering or muscle pain
P – passing no urine (in a day)
S – severe breathlessness
I – it feels like you're going to die
S – skin mottled or discoloured
In children, signs of sepsis can include breathing very fast, 'fits' or convulsions, mottled, bluish, or pale skin, a rash that does not fade when you press it, extreme lethargy, or being abnormally cold to the touch. A child under five may have sepsis if they are difficult to feed, are vomiting repeatedly or haven't passed urine in 12 hours.
How to train your staff to spot sepsis
Because the symptoms are non-specific, and can be put down to other, less life-threatening conditions, a patient or their family may not immediately suspect that anything is seriously amiss. It is, therefore, important that all practice staff are alert to patients presenting with red-flag symptoms.
Although receptionists are not required to be trained medical professionals, they should be able to detect red flag symptoms for serious illnesses, and act accordingly.
If a patient rings the surgery, the receptionist should ask about the nature of the medical problem. The receptionist can then act accordingly if the patient reports any, or a combination of, the red flag symptoms of sepsis, or if something doesn't feel right.
In a potentially serious situation, it is important your receptionists know who to escalate the situation to. After they have determined a patient may be in need of urgent care, they should know which doctors, or other medical services, to inform. Based on the seriousness of a patient's presenting symptoms, they should also be able to assess if an ambulance is needed urgently.
For more information on how to train your receptionists to spot sepsis, visit this resource.
Raising sepsis awareness in your surgery
Unlike other conditions, such as heart or asthma attacks, there is, unfortunately, no one clear sign that a person is suffering from sepsis; its initial presentation can seem like the 'flu, or gastroenteritis. A patient may not suspect they have anything serious until it is too late. Also, unlike some other conditions, sepsis can strike in any age group.
This is why you need to raise awareness of sepsis among your patients. Having a poster about the symptoms of sepsis in your surgery is an excellent way to educate those in your waiting area. Public Health England have created several eye-catching sepsis posters for you to download and use; providing a sepsis leaflet with more comprehensive information may also be beneficial.
It may also be helpful to share these resources with employees, especially your reception staff.
For more information about sepsis, visit:
With greater awareness, sepsis can be caught earlier in many patients and this leads to much better outcomes. Help raise awareness in your surgery so that sepsis stops being the killer it currently is.