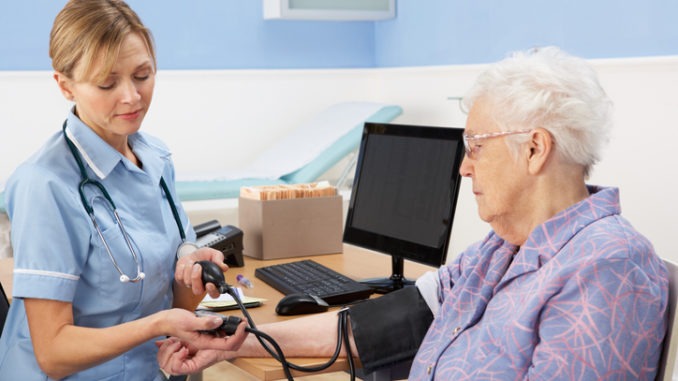 Any redesign of general practice services to meet the challenges of COVID-19 must be done with 'nursing at its heart'", according to a primary care nurse leader
CREDIT: This is an edited version of an article that originally appeared on Nursing Times
Julie Bolus, non-executive director and nurse lead at the National Association of Primary Care, told Nursing Times that nurses were not always being invited to the table when decisions were being made about new care delivery models, and how best to address the patient backlog caused by the pandemic.
She said it was the responsibility of primary care nurse leaders to ensure the profession had a voice in discussions, going forward, particularly in relation to services like immunisation and chronic disease management which are usually led, and delivered by, nurses. "We are still seeing nurses; I don't think that they are excluded – that would be too harsh a word – but they are not included in some of those meetings," Julie warned. "Getting nurses to go forward with ideas, particularly because it's their work programme, I think is a critical part of what we need to do as nurse leaders at the moment."
In particular, Julie raised concerns that conversations around what needed to be done to get up to speed on work missed due to COVID-19 restrictions, such as routine vaccinations and screenings, were being "medically dominated".
"What I am hearing…is that a lot of nurses are saying that they are not necessarily even being included in some of the decision-making within their [primary care network] about the model that would work best in doing the catch-up programme. It's become quite medically dominated." It was vital for nurses to "take the lead on what they know best", said Julie, adding, "If it needs redesigning it certainly needs redesigning with nursing at its heart."
'Flu – a key focus
A key focus for general practice nurses over the next few months will be delivering the expanded influenza programme. At the same time, Julie said primary care leaders were being told that they needed to be ready by the end of the year to roll out a COVID-19 vaccine, if one was found.
Julie, who qualified as a nurse in 1985, and remains on the register, said for 'flu alone staff were expecting to be providing around double the number of vaccines than in previous years. As well as more people being eligible for a free vaccine, the pandemic meant those who would have previously turned down a jab may be convinced to take up the offer this season, she noted.
The additional numbers, on top of the challenges of delivering the programme with COVID-19 still in circulation, would require a creative approach, she said. This could involve groups of practices teaming up – while plans were already being formed around giving 'flu vaccinations using a drive-through model and at hubs in supermarket car parks. "The capacity is going to be pretty tight and I think what we are going to really need to see is teams working around populations" Julie, who is also a non-executive director at Locala, a community provider in West Yorkshire, said.
"You almost need to industrialise the ability to give [vaccinations] out. I think the corner-shop mentality of being able to give an additional, 100% vaccine in your practice is probably a little naive. I think they are going to have to plan to do things differently in order to meet the volume."
64 million-dollar question
When asked whether there was the workforce available to meet the expected increased demand, Julie said this was the '64 million-dollar question'. "In my experience, and it's been really positive, primary care is the first contact provision, so it tends to stand up when it needs to. So if they've got to do it, they'll do it, and I'm sure that they will be able to do it. It's just I think the timing is going to be very important about when both vaccines are going to need to be delivered by."
The 'flu vaccination programme is predominately delivered by general practice nurses. The government has recently unveiled plans, which have gone to consultation, to train up, and give legal protection to, a wider range of professionals to administer the 'flu and potential COVID-19 vaccines. Named in the government plans were midwives, nursing associates and student nurses, although these professionals are already involved in vaccination programmes in some places.
Meanwhile, Julie told Nursing Times that there had been confusion and contention over whether nurses needed to change personal protective equipment (PPE) such as gloves, masks and aprons between each 'flu vaccination, in light of the pandemic. She said there needed to be "more clarity" over the guidance, and the evidence behind it, to give nurses confidence.
Innovation is key
Overall, Julie said nurses would need to become "more innovative" in their approach to delivering primary care, as the pandemic continued. "For me, don't assume you can do what you did last year, is the big message. Learn quickly from what's going on around you. There's lots of ideas out there; what will work best for your community?"
She noted how nurses were already adapting the drive-through model in order to deliver phlebotomy and chronic disease management services. During lockdown nurses had used the opportunity to give their patients the tools and confidence to self-manage their conditions at home, for example by supporting them to self-administer injections instead of relying on a health professional to do it.
"I think we've got think more radically about how we become educators as nurses, as opposed to care-givers. I'm not saying we shouldn't provide care – I've been a nurse for a very long time – but we can no longer rely on a maternalistic or a paternalistic model of care where we do for you; we are going to have to help you do for you as well. Particularly with the workforce crisis we are facing in nursing, we are going have to become more innovative around how we help people provide the safe environment for care."
Another important message Julie was keen to get across was the need for nurses to look after their own mental wellbeing and ensure they were taking their annual leave. "Just be kind to yourself, because it's going to get busy – October/November is going to be busy," she said.