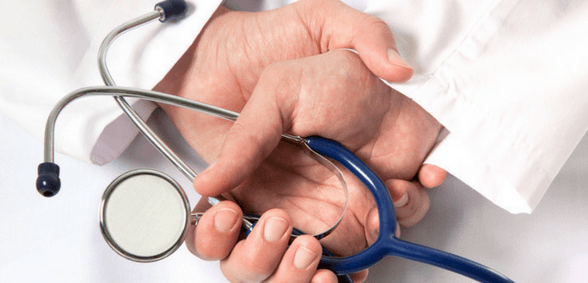 A partnership between the RCGP and Queen's University Belfast aims to ensure young people are aware of the benefits of working in general practice
The Royal College of General Practitioners (RCGP) has begun working collaboratively with Queen's University Belfast in order to promote general practice as an attractive future career prospect for young people.
The partnership aims to show that being a GP offers a hugely stimulating, diverse and satisfying career, enabling doctors to build relationships with patients and families and provide excellent health care for entire lifetimes. With the 70th birthday of the NHS being celebrated this week, the two organisations are celebrating the role of the GP within our health service. Using work experience tasters, Queen's University Belfast and RCGP are encouraging 16-17 year-old school students to recognise the valuable role that GPs play in communities.
Over the past fortnight,12 school-aged students have each spent two days shadowing a GP in their practice to get an insight into life as a family doctor in Northern Ireland. GPs and medical educators are keen to encourage young people to consider studying medicine and to support the development of tomorrow's doctors.
During the two-day placements, students have seen the reality of life as a GP providing care and services to patients. They also developed an appreciation of the values and behaviours that are essential for working in medicine and grew their understanding of the physical, organisational and emotional demands of a medical career.
Reflecting on the work experience programme, RCGPNI chair, Dr Grainne Doran, said:
"Today marks the 70th birthday of our National Health Service. General practice sits at the very heart of our National Health Service and it is vital that we make sure we have the right workforce in place to care for patients for the next 70 years and beyond.
"With a growing and ageing population in Northern Ireland, it is essential that patients are able to get the care and support that they need within their own community. To provide this, we must ensure that we have an NHS that is fit-for-purpose, with enough family doctors to manage the needs of patients, now and in the future.
"We are delighted to be working closely with Queen's University Belfast to encourage students to consider a career in medicine and in general practice. GPs are not only vital players in our health service, but respected and valued members of our communities. Every single day, GPs are working as hard as they can to meet the needs of patients and provide the best possible care and treatment."
Professor Pascal McKeown, acting dean of the School of Medicine, Dentistry and Biomedical Sciences in Queen's University Belfast, added:
"We greatly value our partnership with the RCGP. As we celebrate the 70th birthday of the NHS, we are very pleased that, with the help of the RCGP and GP colleagues, we have been able to provide interested students with an opportunity to see at first hand the key role which GPs have in improving the health and wellbeing of their patients."
Don't forget to follow us on Twitter, or connect with us on LinkedIn!