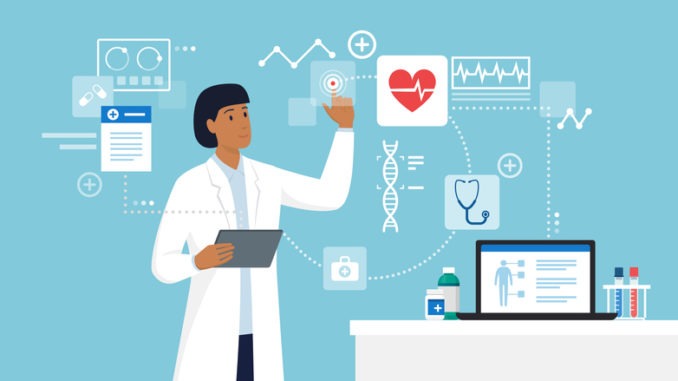 During the COVID-19 pandemic there has been wide-ranging discussions on the link between GP burnout and the increased use of digital services. Andrea Downey looks at how going digital-first has impacted GPs workload
CREDIT: This is an edited version of an article that originally appeared on Digital Health
Calls for a blended approach to how care is delivered is a solid indication that technology is here to stay in many GP practices. For Dr Murray Ellender, a practicing GP and chief executive of online consultation provider eConsult, and Dr Osman Bhatti, GP and CCIO for NHS North East London Clinical Commissioning Group, this is not a bad thing. Speaking to Digital Health News they both acknowledged the pressures technology had caused GPs during the pandemic, but also agreed that practice processes were the root cause of excess workload.
"The technology is not the problem. It's not an argument of 'Should we do digital or not?' It's much more about the way that practices use the technology," Dr Ellender says. "You need everyone in a practice on board; everyone needs to be engaged in the change. If you're opening up a new route of entry into the practice you need to switch something off. It's a bit like taps; if you're opening up the online tap you need to turn down the 'phone, for example."
He instead suggests the system change that comes with digital services has been underinvested in nationally, whether it be through training, funding or extra staff. Dr Bhatti also argues that processes need to change to better support digital services. "Practices need to adapt their process so that they're not doing face-to-face, telephone and online. Their online is replacing telephone, or face-to-face, so it's not additional work, it's the same amount of work," he told Digital Health News. "Although, demand has increased – so it's a double-edged sword in that sense."
Overall, he says the use of technology has been "positive" but it's not something that can be qualitatively assessed as practices are often operating at different levels of digital maturity. "It's been a positive experience if you balance things out, because things we were planning, from a digital perspective, we've been able to accelerate through," he adds. "That is all the way from online consultations, online registrations, to being able to have meetings online. We've had to invest quite heavily in change management to support this, and not to force it on people, but allow them to move at their own pace, which is really tricky." Dr Bhatti says the next step, as the country continues to return to normal post-pandemic, is to "sift through" what clinicians find easy to use and what patients find accessible.
Switching off services
In response to GPs reporting feeling overwhelmed by demand for online services, eConsult introduced the ability to turn off its online consultation platform. Between March and June 2020 the online provider doubled the amount of practices it was used in from 1,500 to more than 3,000. On top of this, in the year from February 2020 to February 2021, online consults through its platform increased from 120,000 a month to 1.2m a month. Dr Ellender says it marks a "clear shift to digital" but recognises it can add strain alongside the mounting pressure already on GPs to keep up with demand.
"Some GPs are saying, 'Actually, it's just too much at the moment. Can I at least have some control over it?' And that's fair enough," he says. "So, this is us listening to the customer. In principle, I believe the patient should have access to this stuff 24 hours a day, but if your particular practice isn't coping let's just limit it to your opening hours. Rather than fight against the tide and say it should be available 24/7, it's about recognising that, actually, general practice is in quite a difficult place at the moment, and they are overwhelmed for lots of different reasons."
Dr Ellender says the weekend is the most common time GPs are switching off their online consultation services with eConsult, followed by occasionally overnight. Despite this he believes digital is here to stay and suggests other GP suppliers should be more flexible with their services. "There's certainly enough usage out there now that GPs won't ever want to do without it. Practices have historically had control of the number of face-to-face or 'phone slots they can offer, so why should digital be different?
"All suppliers need to be playing the slightly longer game, which is that digital is definitely the way forward. We've seen it in other industries so, for now, let's just work on that transformation of how people interact with their GPs and bring the practices along with us because if you're just making them feel like this is extra work they have to do, you're just going to turn them off it."
Digital a 'key player'
Graham Kendall, director of the Digital Healthcare Council which represents online care providers, tells Digital Health News that technology has an important part to play in managing the "incoming deluge" of patients. NHS waitlists are already at a record high of 5.4m, with a further six million expected to be added to that list while the health service grapples with recovering from the pandemic.
Add increasing staff burnout into the mix and Kendall says it's "essential that we provide GPs with as much support as possible." "Over the past 18 months we've seen GPs seize the opportunity with digital and drive uptake of online triage and consultations so that they can continue delivering care within the constraints of the pandemic," he says. "However, considerable challenges still remain, and it's important to recognise that digital has a key role in improving capacity and alleviating pressure.
"Although we understand why some are concerned that the 24/7 nature of the tools is adding to the pressure, we believe that shutting the door to patients at nights and weekends is a short-term – and potentially dangerous – way to manage the demand.
"If we are actually to be able to tackle the incoming deluge of patients, we need to ensure we have the tools in place to assess the extent of demand so that we can then match resource accordingly."