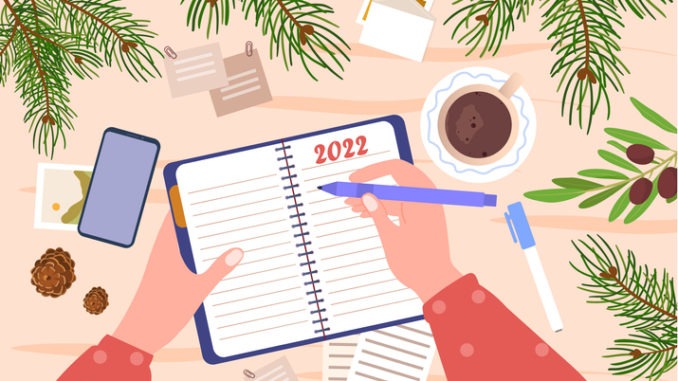 A new year is a time for a fresh start and, despite the many challenges 2022 will bring (and is already bringing), it's always good to start the new year off on the right foot. So, how can you start the new year right?
Clear desk, clear mind
Decluttering your desk is a great way to also declutter your mind. Working in an organised environment means you spend less time trying to search through random piles of paper and more time getting through your never-ending to-do list – and we all know there is nothing more satisfying than ticking off something on a to-do list.
Goal setting
It's a cliché, but setting goals at the start of the year really is a great way to focus yourself and reflect on what is important to you, and what you want to get out of the year ahead. You may not always reach those goals, but having things to work towards, and thinking of ways to self-improve, can only ever be a good thing – and if you do manage to achieve your goals, well that's a bonus, and the satisfaction you will get will be a great feeling!
Get your calendar in order
There's nothing worse than double-booking yourself, missing important appointments or, (of all, missing your family or friend's birthdays! The start of the year is the perfect opportunity to get all of your important dates down in your calendar and also to plan for any annual leave you may need to take before it is too late. Knowing what you are meant to be doing when means you feel more in control of your time.
Sort it out
Do you have a wardrobe stuffed full of , or a drawer filled with miscellaneous objects you haven't used in years? Then it's time to have a good old sort out! Separate your clothes or objects into piles: keep, donate, or chuck. It can sometimes be hard to let go, but really push yourself to try and reduce your clutter by at least 25%; if you haven't worn or used something in over two years, it's time to go!
Practice gratitude
Life is a gift, and every new year you are lucky enough to see in should be met with gratitude! Sure, life can be challenging, and it most definitely has its ups and downs, but practicing gratitude every day can re-focus you on the good things in your life, even on your worst days.
Take five minutes each morning to write down, or say out loud, three things you are grateful for. This will start your day off on positive note and make you appreciate the best things in your life – it could be as simple a good night's sleep, the sun shining or having a nice evening to look forward to.
Using some of these tips should help get your 2022 off to a flying start!