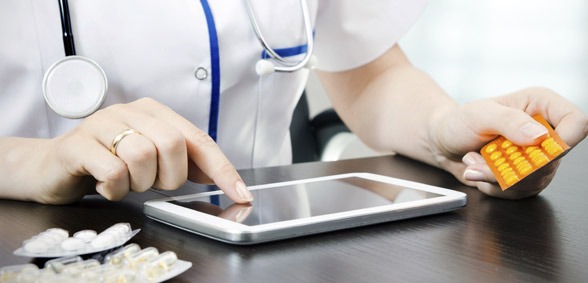 As practices move towards new ways of working to maintain income and high standards of care, what technology is available to help? Stephen Wilcock, managing director of technology company Egton, looks at some solutions
The recent news that the Care Quality Commission rates 90% of GP practices as either 'good' or 'outstanding' is testament to the skill and ingenuity of primary care. Despite falling GP numbers, reduced income and increasing workload everyone, from clinicians to practice managers and support staff, is working together to give patients excellent care. They are achieving great results in this most challenging of times for the NHS – and the right technology is helping.
The way we work
In 20 years of supporting practices we at Egton have seen a transformation in the way GPs work – thanks to the technology that they have pioneered. From a more flexible working environment within the surgery to seamless care across practices, primary care – which has been a tech leader for 30 years – has the solutions at its fingertips – creating ecosystems that work with it.
Take wifi. Where would we be without it in our everyday lives? Thankfully, it is increasingly available in NHS buildings since the health secretary Jeremy Hunt pledged to make it available free of charge two years ago. The deadline for completing installation in every GP practice is the end of this year and we have already completed over 800. A secure and reliable wireless network can be the foundation of a truly digital practice, offering greater flexibility in working practices and improving interactions with patients.
Counting the benefits
The advantages for clinicians and patients alike were clear for south Norfolk CCG, where we installed WiFi earlier this year.
John Allison, GPIT support manager from south Norfolk says: "The practices are now beginning to use the connectivity as a way to promote services and health initiatives and gain patient feedback, making maximum use of their time as they wait to see the doctor.
He adds: "It is also helping to create a more flexible working environment too, with doctors taking their laptops to work from different rooms."
Mobile working
Technology to enable mobile working is common outside the NHS, of course, but more GPs and community nurses are taking advantage of it as their work patterns evolve.
For the Townhill Medical Practice in Surrey – a practice that has two partners, eight associate doctors and two registrars, and provides care for several nursing homes, a private school and around 13,000 patients – a mobile working device called Anywhere Consult which allows access to their GP clinical system was the answer.
"The way our GPs used to work was time-consuming. They were writing everything down on paper then updating patient records when they got back to the practice", says Jules Green, IT co-ordinator at the practice.
Anywhere Consult provides secure, real time read-and-write access to their clinical system and essential NHS services via a secure N3 network connection and saves GPs up to an hour a day on transferring paper notes to the clinical system back at the surgery.
Making paper a thing of the past
Reducing paperwork and admin time is the holy grail of general practice, of course. The Valleys Medical Partnership in Sheffield chose Intradoc247, an easily navigable, secure central document management system to streamline admin tasks across two sites. Every member of staff uses it, providing the visibility for better communication and collaboration.
At the Appletree Medical Practice in Derbyshire they, too, are realising the benefits of better staff communication via Intradoc247 – and for patients with access to the practice website using GP Web. It enables patients to access information from their GP, book and manage appointments, order repeat prescriptions, and view their medical records.
Better and faster electronic communication for patients and staff along with sophisticated mobile devices which enable new ways of working are key to giving high-quality, cost and time-effective healthcare. Technology can help general practice to stay ahead of the curve – it's just a matter of investing in the right technology that fits your practices needs, streamlines processes and helps to deliver excellent care.
Don't forget to follow us on Twitter, or connect with us on LinkedIn!