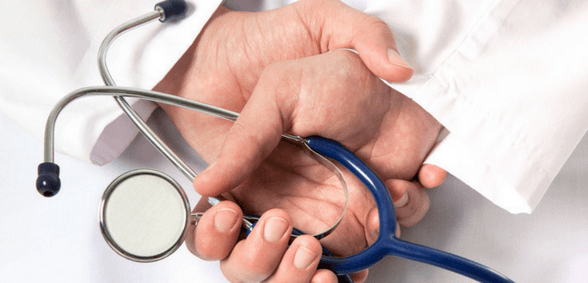 Plans to improve how doctors in training are assessed, appraised and receive feedback are a 'welcome development', says BMA
That is the message from doctors leaders after HEE (Health Education England) unveiled recommendations which also include allowing trainees to re-enter training more easily and improve feedback on doctors' progress.
The announcement follows HEE's year-long review of the ARCP (annual review of competence progression) process, which was started after doctors in training raised concerns about inconsistencies in how their performance was assessed in the current system.
BMA junior doctors committee chair Jeeves Wijesuriya said: 'Our members have repeatedly raised concerns with the ARCP process noting that it can be inconsistent, with variations across specialties and locations and often appears to be a "tick-box exercise" with little opportunity for education or professional development.
"It is, therefore, a positive step that this review states clearly that the consistency of ARCP panels is vital, alongside a need for better decision making and providing meaningful feedback following the panel."
The planned improvements to the scheme include:
Making the process more uniform across the country, with assessment requirements that do not change during the training year, ensuring that trainees and those who support them know what they have to do to prepare for their ARCP, how the process itself will work and what feedback and support they can expect, whether they work full time or part-time.
Making it easier for trainees to temporarily come out of their training, for example, to undertake research or for family reasons, and then restart training without losing credit for skills already gained
Development for doctors not in formal training to enable progression within the profession, and enhanced support for those doctors who are preparing to re-enter training after time out
Ensuring every doctor in training gets feedback on their training, clarifying the support around doctors in training and the role of educational supervisors and ensuring trainers have sufficient time and training to deliver
Applying the principles established through the review of high-quality appraisal and assessment to benefit other healthcare professionals who wish to train to expand their skills and scope of practice as part of multi-disciplinary teams.
Promoting flexibility
Dr Wijesuriya added: 'Many education supervisors have raised concerns regarding the time and resources that they have to carry out their roles and as a result, we wholeheartedly welcome the call for adequate support and time in job plans to ensure this crucial work takes place and that appropriate training and support is provided.
'More widely, the inflexibility of our current training structures has been a common issue raised by junior doctors and we, therefore, welcome the proposals for promoting flexibility, with the introduction of a step on step off approach to training and appropriate recognition of competencies gained outside of training programmes.
'While many of these changes are positive, we still maintain that all trainee doctors should have access to face to face feedback and support as part of this process, and less than full-time trainees should be given enhanced support to reflect challenges that they face during their training. We would expect that this be delivered as part of this process, and we look forward to engaging closely with HEE on this going forward.'
Health Education England executive director of education and quality and national medical director Wendy Reid said: 'This is about wanting to be assured that the system is fair and consistent across the country. Our doctors in training don't need a process that is overly burdensome and adds additional pressure to what is already a very challenging frontline job.
'The assessment process remains an important part of ensuring patient safety, as it provides evidence of the progress doctors in training are making and assures the public that they are in safe hands. What we have to make sure is that it works for all involved.
'The review has highlighted what we can do to improve things to make doctors in training feel valued, such as not waiting until the end of the year for feedback and support, but having a more regular face to face feedback and support that also acknowledges where they are excelling.
'We know there is variation in how the system works across the country and there are many reasons for that. There needs to be a more standardised and consistent approach so doctors in training go through the same process regardless of where they are based and what hours they work.'
Don't forget to follow us on Twitter, or connect with us on LinkedIn!